How to Retain Your Best Employees and Reduce Employee Turnover
I think we can all agree a healthy economy is a good problem to have. That said, it does present hiring challenges with everyone drawing from the same limited pool of candidates. This leaves an organization seeking growth with three possible options:
Settle for the 3.7% of available job seekers and cross your fingers that a talented candidate happens to be out of work.
Persuade someone who's not looking for employment to stop what they're doing and get into the market — perhaps an active student, retiree, or stay-at-home parent.
Convince someone with a steady job to leave their organization for a better opportunity.
Option three is the most popular one, of course. But don't be too smug about snagging a key player from a competitor. Because while you were out hunting down that great hire, your competitors' headhunters were doing the same thing to your organization.
The labor market is heating up, so how do you make sure you're not losing experienced employees faster than you are able to attract new ones? If you don't want to be fighting the war for talent on two fronts at once, you need both a good defense and a strong offense.
In other words, now is the time to make sure your culture is in great shape so you can improve employee retention and reduce employee turnover. Top Workplaces already do.
Top Workplaces employees want to stay put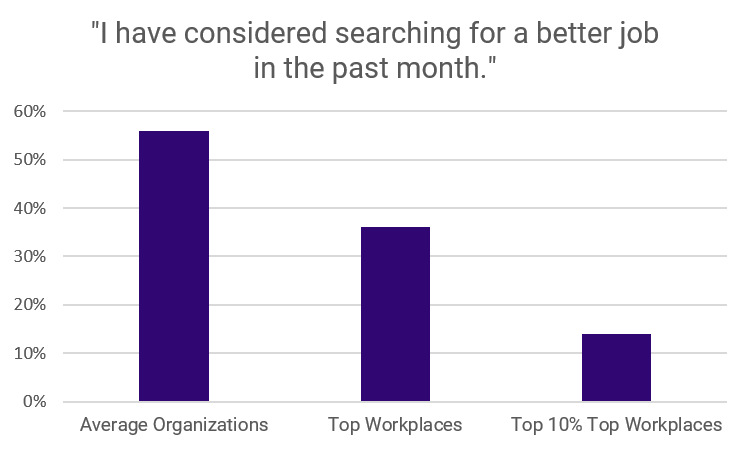 Top Workplaces prevent employee turnover through the strength of their culture, a positive workplace experience, and external recognition as an employer-of-choice winner. Here's what our data shows.
More than half — 56 percent — of employees at average organizations admit they've searched for a better job in the past month. But it's a different story for employees at Top Workplaces. Only 36 percent have recently considered a new opportunity. And at the top decile of Top Workplaces? Just 14 percent report searching for a new job. Needless to say, Top Workplaces excel at employee retention.
You need to think relation, not transaction
As senior leaders come to understand the indisputable fact that engaged employees deliver superior business results, they jump to an erroneous conclusion: If they can make employees engaged, better results will follow. They embrace transactional approaches to engagement, such as rewards, free food, bring-your-dog-to-work day, office parties – you name it. Sure, these are welcomed by your staff. But they only serve to build entitlement, not engagement. Because here's the catch: You can't make employees be engaged. They become engaged or they don't.
Today's perk is tomorrow's entitlement
What senior leaders should do is focus on workplace culture, striving to create the kind of environment that attracts, retains, and develops the talent needed to ensure success. This is the type of workplace employees become engaged with.
A quick note: It's easy for leaders to make employees feel disengaged through poor leadership behaviors. Similar to trust, engagement is built up over time but can be damaged in an instant.
So, what are employees looking for? After 12 years of exploring different drivers that lead to higher engagement, we've identified the 15 culture drivers that most predictably lead to engagement for today's workforce.
15 culture drivers that improve workplace culture
Top Workplaces excel at many things, including the 15 culture drivers that lead to higher engagement. We've organized them into four imperatives:
Imperative #1: Align
Employees cannot get fully engaged in a culture where goals and objectives are misaligned. Here are the drivers that most closely predict success:
The organization operates by strong Values.
Employees are clear about the future Direction of the organization.
Meetings are efficient and help get the work done.
There is strong Interdepartmental Cooperation.
Imperative #2: Connect
Employees need to feel that they belong and are valued:
Clued-in Leaders know what is really happening in the organization.
Employees feel Appreciated.
Employees find Meaningfulness in their work and believe it contributes to a greater cause.
Clued-in Employees feel well-informed about important decisions.
Imperative #3: Coach
Employees get support and attention from their immediate manager who:
Cares about team member Concerns.
Support career growth and individual Development.
Is Helpful in supporting the work of team members.
Does whatever they can to help their direct reports achieve their full Potential.
Imperative #4: Perform
When your organization fails to do things effectively, employees get frustrated. Top Workplaces demonstrate:
Open-mindedness, because the way things have been done in the past may not be the best way moving forward.
Innovation, because things can always be improved.
Great Execution, because nobody likes to battle inefficiency.
Want to get intentional about culture? Start with an employee engagement survey that measures these 15 culture drivers. Find out where your organization excels — where it falls short — and then focus on improvement.
Build your defenses by paying attention to culture
Employees rarely leave because of money. They leave because they're looking for a better opportunity or a better working environment. Clued-in leaders understand this. They also understand workplace culture is dynamic — and it changes over time.
"Our biggest strength is our company culture. Our challenge is to support growth while ensuring culture doesn't get warped in the process." Andrew Rosen, Human Resources Manager at Ohio Real Title
If you're not intentional about guiding your culture it will change. And if left unsupervised, it may well change for the worse. If you seek to understand and improve your culture, here are the three key steps:
Step 1: Find out where your culture stands
Whether you're tackling culture for the first time or you're a veteran on the topic, your efforts should be informed by qualitative, objective data rather than instinct. Leaders are notoriously poor at evaluating their own competencies. They're equally poor at 'situational sensing' — getting a grasp on what is really going on inside the organization.
So, before you seek to change, seek to understand. Employee surveys are powerful, yet easy ways of soliciting feedback and providing an objective basis for your change efforts.
"The employee engagement survey has been an extremely helpful tool for us. We can have observations, but the survey bears them out. The numbers don't lie." Jeanne Lynch, Vice President of Human Resources at Griffis Residential
At Top Workplaces, senior leaders are clued-in to what's really happening throughout the organization. There are two reasons why this is important. The first reason is that uninformed managers act on assumptions — and then they make dumb decisions that are bad for business. The second reason is that clued-in leaders are vital to an engaged workplace culture. Knowing that the folks at the helm have a good grasp on reality boosts the confidence and trust of employees.
Step 2: Find out what good looks like
While your engagement survey will provide you with great empirical employee feedback, it won't necessarily tell you where you stand relative to others. Energage has been studying Top Workplaces for the last 12 years, and we can help you understand where you stand in relation to other best-in-class organizations.
Furthermore, given the size of the Top workplaces dataset, you can benchmark down to the individual level to achieve a much greater level of reliability and greater insights in the data.
"We're very, very protective of our culture. If you come in and you're positive, and you jump in, and you work well with others and those kinds of things, we're going to have a long, happy career together. If not, it might be a short road". Assistant Superintendent Mark Tyler, Hamilton Township High School in Ohio.
Step 3: Up your culture game
Now comes the time to improve your culture, and close the gap between your current and your desired employee culture. Does it sound daunting? It doesn't have to be.
Changing the culture of an organization used to be a time-intensive exercise. It required the full-time attention of executives with an inordinate amount of shoe leather and elbow grease. An internal communications group came in handy, too.
Today, tapping into the power and scale of technology, we are able to 'hack' the culture, changing things on a daily basis in small and sometimes subtle ways. But these intentional changes add up over time to get your culture where you need it to be. Just like going to the gym every day and changing your diet gradually over time can yield great results — that is, if you stay the course. Here's how to go about it:
Build trust at scale
The work environment is littered with communication tools. Email, smartphones, and instant messaging have replaced the Telex, desk phone, and fax. Yet, none of these communication technologies have helped to improve culture. If anything, they've caused over-saturation.
Culture technology is a new breed of software that allows senior leaders to know what's going on and employees to feel heard and appreciated. It's software that has been designed purposefully to address the 15 culture drivers.
By providing safe channels of communication, using anonymous feedback, and pulse surveys, culture technology fosters dialogue and problem-solving in ways traditional approaches can't: It factors the human element into the dynamics of the workplace.
Using culture technology, you can build recognition, celebrate the positive aspects of the culture, and constructively channel frustration and negative feelings in the workplace.
We've heard some HR managers say that employees suffer from survey fatigue. But we beg to differ. We believe they suffer from inaction fatigue. Because if the feedback they provide translates into visible improvements, they will provide valuable feedback and insights all day long.
Adopt a coach mindset
Managers are critical in supporting employees and unleashing individual potential. As we gradually put old-school managerial practices behind us, such as rank-and-rate performance appraisals, we are gradually recasting managers into the role of supportive coaches.
By adopting a coach mindset and a contemporary approach to leading teams, organizations are further fostering a culture in which people feel valued and supported. As a result, these employees are more willing to bring the best of themselves to work and perform at their fullest.
If need be, bring in the experts
But be selective. As your organization undertakes the journey from where you are now to where you need your culture to be, it can help to have an expert to guide you along the way. But a word of caution: Don't hand over control of your engagement efforts. Your culture is what makes your organization unique. If you entrust too much of your change effort to external experts, you will fail to take full ownership of it and stand the risk of somebody else defining your future for you.
How external experts can best help you on your journey:
Planning your strategy and tactics for putting activities into motion.
Coaching and briefing your senior team.
Collecting and interpreting survey results.
Facilitating training and change workshops.
Helping with internal communication efforts.
Many organizations have benefited from these three steps …
Through a blend of communication tools, coaching efforts, external consulting, and insights, organizations have radically turned around their performance by tapping into the power of their people. For example, the Hamilton School District mentioned above was once one of the most underperforming public schools in the state. But now, with a focus on employee engagement and workplace culture, they have orchestrated an incredible turnaround. The district is now is recognized in the National Rankings where it earned a bronze medal.
"We survey because, a) we really care, and, b) because we're learning, we're growing, we're changing. The thing about being the best is that you're not done. It's a way of being, and you have to commit to that. When you think about the road ahead, the questions you ask should be: 'Can we sustain this? Can we keep that focus? Can we sharpen it?'" Zac Jacobson, Senior Director of Business Excellence and Customer Insights at eBay.
Act like your business depends on it
Jeanne Lynch of Griffis Residential sums it up:
"Engagement is everything. If our employees aren't engaged, they can't be enthusiastic, and it affects the bottom line."
In conclusion, changing your workplace culture takes time and effort. But if you don't have a plan to understand, benchmark, and get intentional about your culture, you're leaving it up to chance. And the odds are not in your favor.