When it comes to feeling appreciated at work, what matters most to employees? If you answered "pay," think again. Research shows pay is low on the list.
We've studied more than 19 million employees across 57,000 organizations over the past 13 years. We've learned that what matters to employees — what truly motivates them — is feeling appreciated. Across all U.S. sectors and populations, appreciation ranks as one of the most important workplace culture drivers.
Appreciation rates second in importance to employees at Top Workplaces organizations. This is topped only by whether employees feel their organization is headed in the right direction.
In their words: What appreciation means to employees
Years ago, pay was a proxy for appreciation. Now, pay and benefits are table stakes. This word cloud illustrates employee comments in response to the Energage Survey Appreciation statement.
Energage Survey statement: Appreciation

"I feel genuinely appreciated at this company."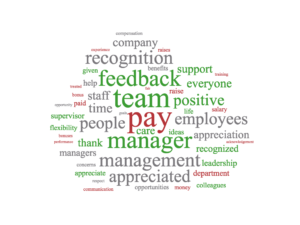 Shown in green are those who responded positively, choosing words such as team, support, everyone, feedback, and manager to describe their experiences.
Now, look at the red words. Pay dominates the comments from employees who responded negatively to the statement. Those who feel appreciated don't attribute it to pay. But when employees feel underappreciated, they're most likely to complain about it.
Terms shown in gray appeared most often from individuals who scored high and low on appreciation.
Employees are looking for higher-level appreciation
Abraham Maslow's Hierarchy of Needs describes ascending levels of human motivators. At its the base are fundamental, basic needs. Higher levels build upon one another to eventually reach the pinnacle: self-actualization. In organizations, pay and benefits are the most basic needs for employees. In contrast, higher-level needs involve direction, execution, and connection. Connection is what's established and maintained through expressions of appreciation.
Employees know appreciation when they feel it
It's important to note there is no definition for appreciation in the Energage Survey. We don't tell employees how – or in what ways – they should gauge their feelings about it. They use their own definition, and even more, employees know it when they feel it. And they can also readily distinguish between what's authentic and what's simply lip service.
Just as there is no single definition of how employees should feel appreciated, there is no single way for organizations to express it. Some use reward and recognition systems. This form of appreciation tends to focus on outcomes, and it's often linked to financial awards. Other recognition systems are tied to organizational events, such as service anniversaries.
The simplest and sometimes the most effective form of appreciation is giving positive feedback or praise. "Thank you for your effort" or "You're doing a really good job" are simple examples. This type of recognition can be delivered in person, electronically, or handwritten notes.
All levels of the organization can – and should – show appreciation
Different levels in the organization should deliver appreciation, because each has a unique message and meaning:
• Peer to peer: Coworkers thank others either within or outside their own team. This is especially important when teams are geographically dispersed or don't see each other regularly.
• Manager to employee: Managers are most familiar with their employees' roles. Employees like to know their manager understands and values their contributions.
• Senior leadership: This level is typically more general, relating to group efforts. But senior leaders can also highlight extraordinary effort. Above all, it demonstrates they see and recognize individual and team contributions.
The bottom line on appreciation
Appreciation matters because it goes a long way with employees to improve motivation, job satisfaction, self-esteem, and retention. And the act of showing appreciation has benefits for the giver, too.
Cultivating a culture of appreciation helps employees feel good about the work they do and it's the glue that holds teams together.
Finally, it pays to be generous with recognition – literally. Appreciation has a positive impact on performance. And that's something that every organization can be excited about.