Data-driven, research-backed tools enable leaders to attract and retain the right talent
Innovative leaders know an intentional culture is crucial to success because of its direct correlation with employee retention, customer satisfaction, productivity, and more. Now, those same leaders are also recognizing the immense impact culture has on recruitment efforts.
The Energage platform is powered by AI and patented comparative analytics shaped by more than 13 years of culture research and 450 million employee engagement data points. This data is derived from 20 million employees at well over 58,000 organizations across the U.S. The result is a fully integrated suite of solutions that enables leaders to:
Amplify the voice of the employee and capture meaningful feedback using a research-backed survey that maps results to 15 key culture drivers.
Analyze survey data with unmatched depth and context to deliver actionable intelligence that drives greater performance.
Establish an ongoing conversation with employees through interim, targeted pulse surveys aimed at continuous culture improvement.
Identify culture differentiators and highlight those strengths across multiple channels to attract talent in a competitive job market.
Real culture improvement begins with the Energage Platform
"At the core of our platform is a visionary comparative analytics approach that marks the end of traditional benchmarking. Fueled by the unmatched scale and precision of the data our platform captures, we have the ability to compare organizations well beyond typical dimensions of size and subsector. And because we are continuously assessing thousands of organizations, customers can be assured the most current labor and economic conditions have been taken into account. The result is operating analysis so powerful that it changes the game for organizations, ensuring their leaders are making data-driven decisions on business-critical focus areas."

Rich Gallagher, Chief Product Officer
A closed-loop, comprehensive SaaS solution, the Energage Platform features four core tools: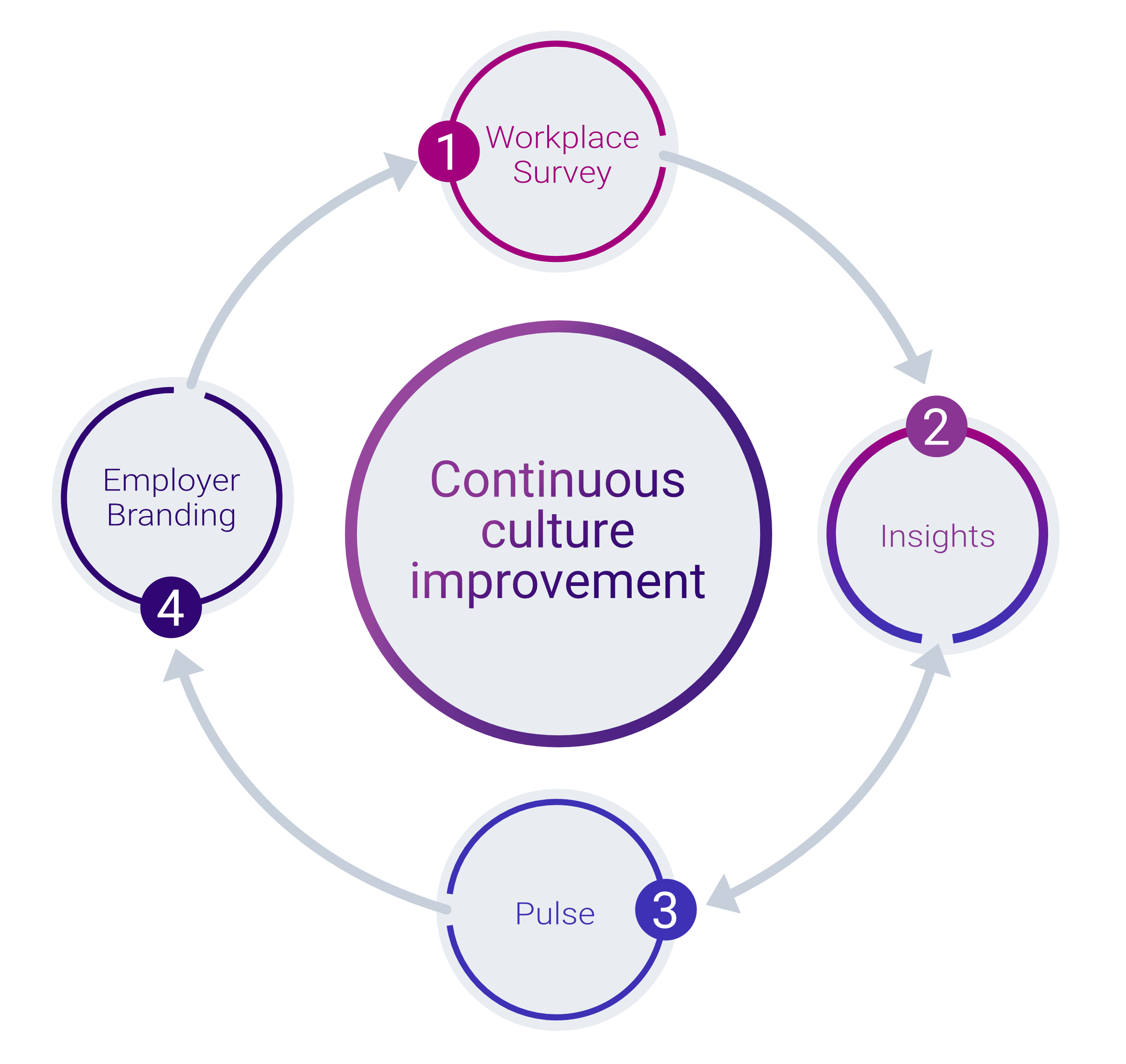 1. Workplace Survey
Measure your culture and give employees a voice. Workplace Survey is a rigorously tested and trusted 24-statement survey that captures anonymous employee feedback and maps results to 15 key culture drivers. It's also the trusted survey behind the nation's Top Workplaces program – and has been since 2006.
2. Insights
Take the guesswork out of employee survey data. The most powerful, patented AI technology engine for employee survey data, Insights goes beyond routine benchmarking reports. Advanced comparative analytics uncovers critical nuances, helping leaders to reduce risk and improve performance by enabling decisions that are data-driven straight from the source: your employees.
3. Pulse
Spend less time creating surveys and more time making an impact. Pulse makes it easy to create tailored surveys – quickly with confidence – to establish continuous communication. Users can choose from a selection of expertly crafted statements or craft custom questions of their own. Either way, Pulse helps organizations maintain high employee engagement by focusing feedback on areas that can impact culture.
4. Employer Branding
Uncover your hiring differentiators. Recruit and retain the right talent. Employer Branding applies patented algorithms to an organization's Workplace Survey data to uncover an authentic culture story. Earned Culture Badges and employee-sourced Culture Facts showcase an authentic culture story that can easily be shared through social media channels, the company's career page, career sites and more.
Maximize your competitive advantage with guidance from Energage experts
Energage Guidance offers support services to help organizations maximize their investment in the Energage platform, as well as broader advisory services to help organizations dive even deeper into building high-performance cultures.
Take the first step toward making an impact on your culture today.