Welcome to Top Workplaces
topworkplaces.com is currently under maintenance
Please nominate your company or submit any questions through the form below!
Win more than just an awesome ribbon
New research shows that organizations that become Top Workplaces, better attract and retain the top talent in their region – plus, having a say through surveys helps these employees stay engaged.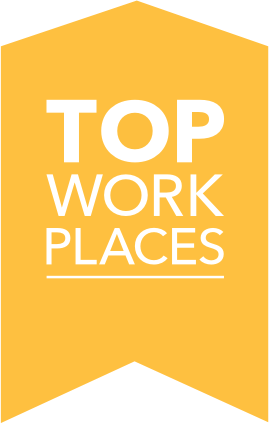 Participating in Top Workplaces

Broadcast your employee brand
Our media partner recognizes Top Workplaces in a special feature while we celebrate them on topworkplaces.com.

Impress clients (and competitors)
Your customers want to work with the best, and the best sport our badge. Plus, it makes your competition jealous!

Engage your employees
"I work for a Top Workplace!" Our engagement survey makes employees proud and helps them feel heard.

Start important conversations
Our introductory survey report serves as a snapshot of your organizational health – and identifies potential blindspots.
Why Become a Top Workplace?
<div class="custom-twp-ribbon-top__outer"><div class="custom-twp-ribbon-top__inner"></div></div>
Employee Engagement
Source: 16 million employees surveyed
<div class="custom-twp-ribbon-bottom__outer"><div class="custom-twp-ribbon-bottom__inner"></div></div>
A Guide to the Top: Lessons Learned From Studying Top Workplaces
Head of Research, Fraser Marlow shares:
What distinguishes them from just average organizations.
How the management philosophy differs at these workplaces.
Which relationships they find the most important.
How they open the channels of communication.
Four best practices you can adopt starting today.
… and much more!