Finders keepers is the name of the game
When it comes to attracting and retaining top talent, "finders keepers" is the name of the game. First, you need to find the right talent. Then you need to keep them. This is especially true nowadays with the current labor market tilted to favor workers. Your employees generally have more choices and your competition isn't shy about poaching your best talent. As a result, organizations need to focus on an employee-centric culture if they want to stay in the game.
Attracting and retaining talent starts with culture
Leaders at Top Workplaces know culture is the secret to a competitive advantage. They make it a strategic priority, day in and day out. At Energage, we refer to this as "getting intentional" about culture.
Leaders protect themselves against the challenges of attracting and retaining talent by recognizing and cultivating culture, while at the same time keeping their workforce engaged. After all, employee turnover is expensive and disruptive. Recruiting new talent is too.
Successful organizations are intentional about culture
Every company has a culture. There is no such thing as a "culture-less" organization. Companies that allow their culture to develop accidentally fall victim to the culture they inherit.
But standout companies go about it differently. They're proactive about building a culture that delivers on business strategy, wins against the competition, and remains steady in turbulence. In other words, they're intentional about culture. And it's led by senior leadership who knows success happens when a healthy culture is a primary focus.
An intentional culture makes you a better finder
At Energage, we've been studying culture for more than 13 years. Our research shows organizations that are intentional about culture – such as Top Workplaces – a whopping 95% of employees refer their organization to others. They practically recruit their friends to join them at work. This referral rate drops dramatically at average organizations where culture is accidental. Here, only 60% are willing to do the same.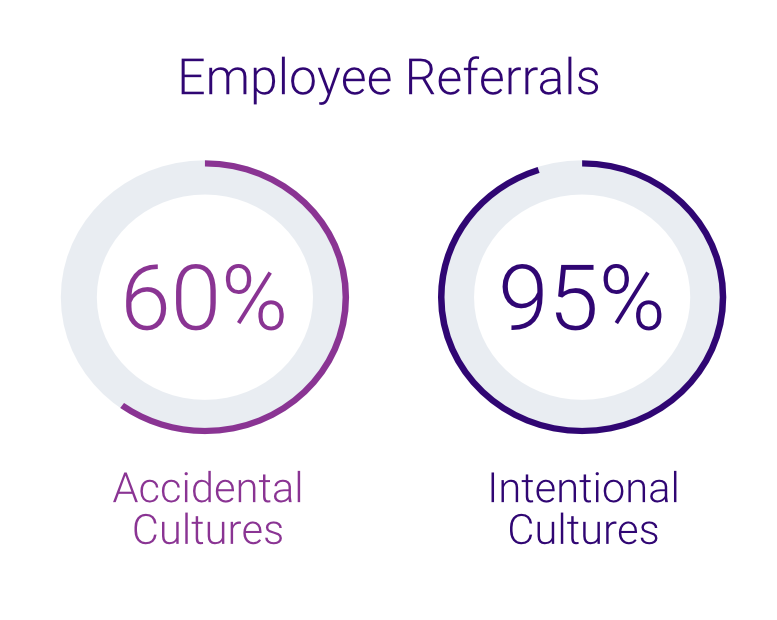 An intentional culture makes you a better keeper, too
Culture impacts your ability to attract new talent and it also impacts employee turnover. A leading indicator of retention is intention. Companies that leave culture to chance struggle with attrition. For instance, more than half of the employees at these organizations admit to looking for better jobs. And if they've got one foot out of the door, you can imagine the effects on productivity, customer service, and toxic talk.
It's a different story for organizations that are intentional about culture. Over 80% of employees intend to stay put. Think about it – that's double the commitment level. They've got their heads in the game and they're giving their best effort to your organization. Take that ROI to your CFO!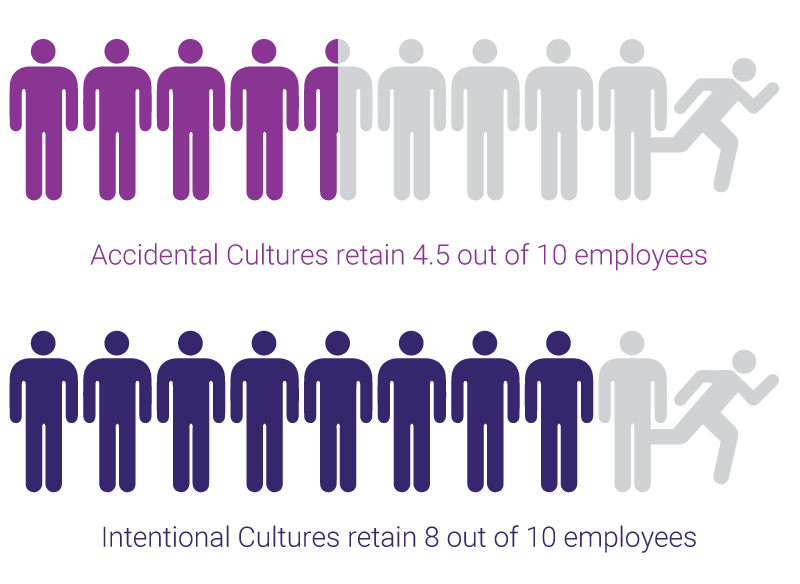 What you must do to attract and retain talent – and how you should do it
We know culture impacts referrals and retention, but what drives culture? How does an organization go from an inherited or accidental culture to one that's intentional? Imperatives and drivers play a major role in this evolution, helping organizations get on track and stay there.
Imperatives: What you must do
Every workplace culture is different and unique. That said, we know successful organizations excel at the same four things. We call them the "imperatives:"
Align: Everyone has confidence in where the organization is headed and how it will get there.
Connect: There's a sense of "we're in this together." Employees feel heard and appreciated.
Coach: The 1:1 manager/employee relationship and the intersection of skills, interests, and company goals.
Perform: The organization gets work done efficiently and is open to new ideas.
Culture drivers: How you should do it
While the imperatives are the same across all organizations, culture drivers – or the "how" – differ from one organization to the next. That's why it's important to know where the company excels, where attention is needed, and which of the 15 drivers are most critical to the success of your organization.
Align culture drivers:
The organization operates by strong Values.
Employees are clear about the future Direction of the organization.
Meetings are efficient and help get work done.
There is strong Interdepartmental Cooperation.
Connect culture drivers:
Clued-in Leaders know what is really happening in the organization.
Employees feel Appreciated.
Employees find Meaningfulness in their work and believe it contributes to a greater cause.
Clued-in Employees are well informed about important decisions.
Coach culture drivers:
Managers care about team member Concerns.
Career growth and individual Development is supported.
Managers are Helpful in supporting the work of team members.
Employees believe managers are doing all they can to support their full Potential.
Perform culture drivers:
Everyone is Open-minded about considering new ways of doing things.
New ideas spark Innovation and an environment of continuous improvement.
Execution ensures things are done efficiently and well.
Three steps to improve your game
A healthy, intentional culture is the simplest way to retain your best employees and attract more of the same. It's the secret to being the best at the finders, keepers game. There are lots of ways to go about getting intentional about culture, but here are three steps we recommend:
Step 1: Know where your culture stands
You can't figure out where you're going if you don't know where you are. Start by asking employee satisfaction survey questions to those who know your culture best: your employees. A research-based, third-party employee engagement survey is the best way to get the insight you need.
Step 2: Know what good looks like
If you want to understand your culture and learn the right way to improve it, you need to go beyond simple benchmarks. Comparative analytics provide you with valuable culture insights and actionable intelligence.
Step 3: Up your culture game
With comparative analytics in hand, you can pinpoint what's causing your top performers to look for new opportunities and then plan improvements to minimize loss. You can also see if the actions you've taken have had a positive impact.
Now's the time to get intentional about culture
You'll benefit from a workforce that's committed to your organization, passionate about their work, and excited to refer new talent. And that means you'll also win the game of finders keepers.