From higher profitability to faster innovation and better retention, organizations reap many benefits from a culture of employee engagement. But did you know this also applies to workplace safety? It does.
Here's an example. A recent study from Queen's School of Business indicates "disengaged workers have 37 percent higher absenteeism, 49 percent more accidents, and 60 percent more errors and defects."
Last year, Energage surveyed more than 450 manufacturing firms. And when it comes to engagement survey customizations, the most common request revolves around the topic of workplace safety. So, what did we learn from the data?
Operating by strong values
Comparing Energage Survey's 15 culture drivers to 20 custom safety questions, we found employees who reported their organization "operates by strong values" were also most likely to agree that their workplace is safe.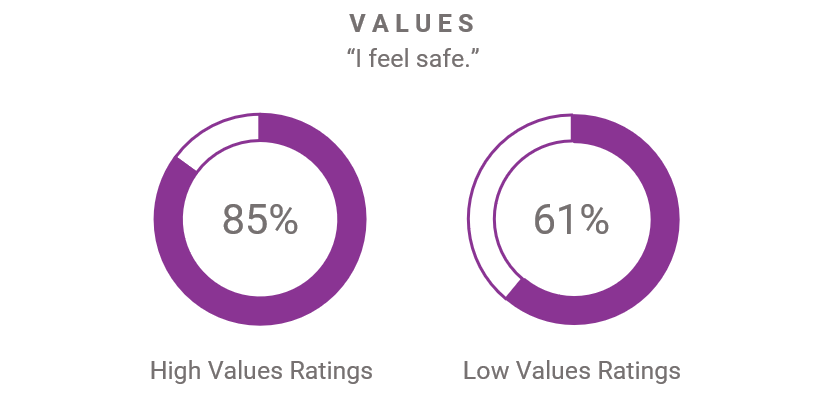 Workplace culture is made up of shared values. When organizations operate by strong values, they also have a strong culture. And it's culture that guides employee behavior, nudging people in the right direction when considering how to act in different situations – when others are looking, and when they're not. This means a strong culture can be leveraged to encourage employees to engage in safe behaviors.
What do those behaviors look like? Reporting unsafe conditions or actions is critical for organizations that value safety. Our data indicates there are three culture drivers that are closely tied to the reporting of safety concerns:
Open-mindedness: "This company encourages different points of view."
Motivation: "This company motivates me to give my very best at work."
Ideas: "New ideas are encouraged at this company."
If you want your employees to report workplace safety concerns, you need to build a culture that enables different points of view, encourages new ideas, and ensures your people feel "safe" to speak up about what they're observing. It will improve productivity — and it could also improve safety in the working environment.
The chicken or the egg?
Which comes first: Engaged employees who create a safe workplace, or a safe workplace that drives employee engagement?
We call this "winning team dilemma." Is the team engaged because they're winning? Or are they winning because they're engaged? The answer is that it's a virtuous circle. If you focus on creating the right culture, employees will choose to become engaged, building a self-reinforcing cycle. In other words, employee engagement is a direct outcome of a strong culture.
When it comes to safety, your company has to lean in with the right policies, the right physical environment … and the right leadership. If you set the right expectations, workers will take ownership of the culture. They'll look out for each other — and the company as a whole.
From safety to referrals and beyond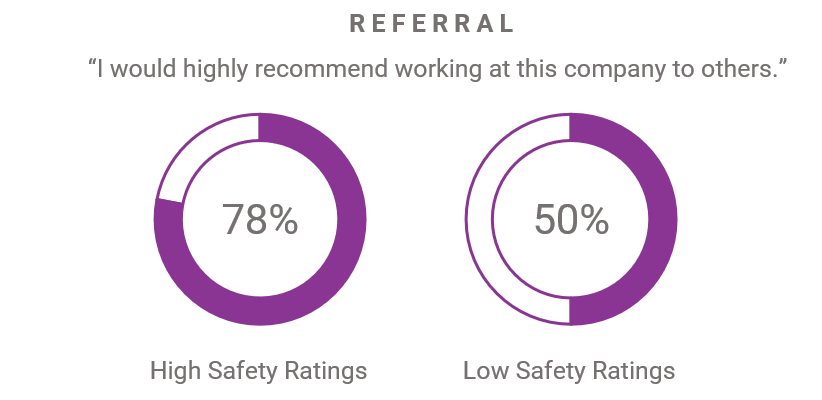 The goal of prioritizing safety is, of course, to reduce or eliminate accidents and injuries. But our data shows that safety can pay off for the organization in other ways too. For example, at companies with high safety ratings, 78% of employees were willing to refer their workplace to others, compared to only 50% of employees at companies with low safety ratings.
It's no surprise employees won't recommend working at your organization if they believe the environment is unsafe.
Thankfully, the manufacturing organizations we surveyed seem to know that culture is critical. And while safety was the most popular topic for custom questions, the second most popular topic was – you guessed it – culture. If these firms continue to be intentional about measuring and driving culture and safety, they'll benefit from a host of positive results.