Why Pulse Surveys and Questions Help You Take Action Quicker and Faster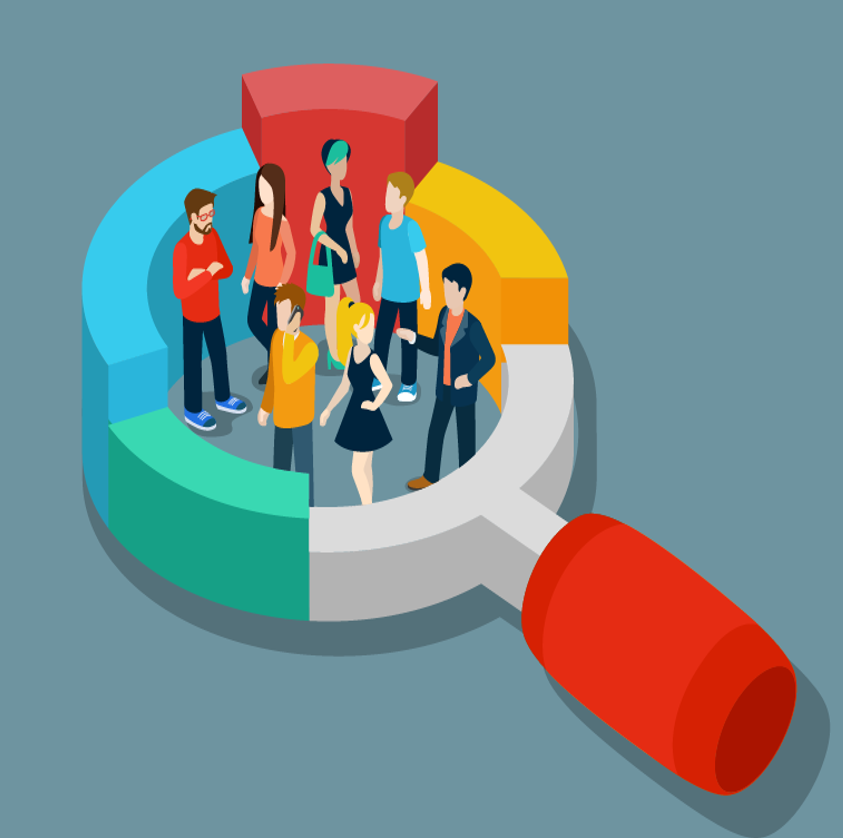 Employee engagement surveys can kick up more questions than answers. Sure, they're an effective way to assess employee sentiment, what they value most, and how they view management. But in order to truly act on survey results, your senior leadership team needs to dig deeper and gain context. Why is the finance group saying they think the company is on the wrong track? How come the West Coast office is reporting lower engagement scores than last year? Why are so many new employees saying they are actively looking for a new job?
For many, the natural next step is to organize a focus group. "Let's get a dozen people together to find out what the thinking is behind the numbers."
While this seems like a reasonable idea, too often internal focus groups are not able to deliver results due to the many challenges they face. After much time and effort, HR teams often walk away frustrated with little to no actionable information, while employees are left feeling uncertain about the organization's ability to convert feedback into positive change.
Where focus groups come from (hint: it's not HR)
The concept of a focus group is borrowed from the world of advertising. And they're pretty easy to do: gather a group of people together that represents your target audience, give them a small incentive to participate, and then present a topic to discuss.
The group quickly agrees the product is great and they would most definitely buy it if it was brought to market. The company runs with getting this feedback, hopeful of future success.
In the book How Customers Think, Harvard Business School professor Gerald Zaltman points out that 80 percent of these new products or services vetted through focus groups fail within six months. Why? Turns out focus groups may not offer the constructive, honest feedback we expect them to provide.
Why the focus group concept is flawed
People will often tell you what they think you want to hear: "Yum this chocolate-coated hot dog tastes great!"
People can't always articulate the real underlying reasons for how they feel: "Sure I'd use this task tracker app. I'm such an organized person, I love it!"
People can't objectively predict how they would behave in a given situation:  "Given the chance, I'd love to go skydiving!"
The trouble with focus groups – are they worth it?
Using focus groups following an engagement survey introduces a few additional challenges:
First, unlike the advertising world, participants of an internal focus group have shared context because they work for the same organization.
Next, some employees have an ax to grind. If survey results highlighted an area of frustration, it takes an expert facilitator to avoid an escalation. When a focus group turns into a gripe session, it's hard to commandeer the discussion back to the true purpose of the session.
Focus groups are not anonymous. Sure, some folks will speak up, but in many cultures, it's not an inherently safe environment to raise genuine concerns.
But the biggest challenge? Internal facilitators may not be impartial. Many companies ask local managers to run the focus groups, and this introduces another dynamic. Think about it: What if the biggest hindrance to engagement is the manager?
Focus groups take a lot of time to plan and run. For a focus group of 12 people, expect to burn up 16 hours of preparation, meeting, and summary time. If the final product is just more opinion to parse or a raft of new complaints you now have to address – is it really worth it?
Tap into continuous listening with a pulse survey tool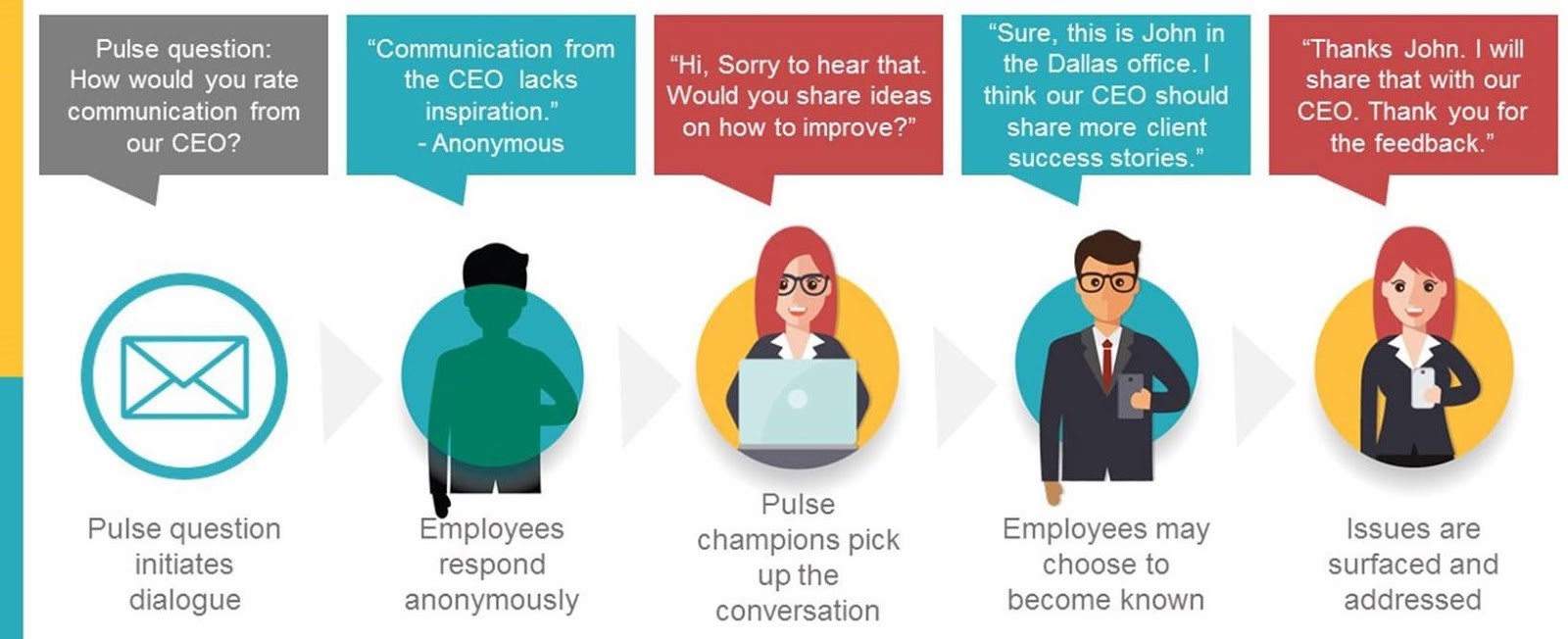 Here's a better approach to your post-survey action: keep the conversation going with a pulse survey tool.
I'm talking about newly developed technology that's designed specifically to collect reliable input from employees all year round. Pulse surveys, such as Energage Connect, foster constructive conversations that add value to employee input and create continuous actionable results.
Using a pulse survey tool, you can seamlessly transition from your annual survey — your once-a-year assessment of the drivers of engagement — to a process of continuous listening. Pulse surveys allow you to deploy a single question (typically a rating on a 1 to 5 scale) by email. Each employee provides one-click feedback and then has the option to provide comments for additional context.
Pulse surveys can help keep your culture efforts on track, quantify your progress, and help you get ahead of emerging issues.
And the key to the process? The responses are all anonymous. The scoring and written responses are kept confidential, unlike focus groups.
Analyzing and acting on dozens (if not hundreds) of written comments may seem daunting, but by using a smart interface, the Pulse administrator can respond to specific comments. The system also maintains anonymity unless the employee decides to reveal him or herself.
"Compared to focus groups, I find you get more honest feedback in Energage Connect. People are more willing to share what they really think." – HR Champion and Energage Connect user
Early users have told us how pulse surveys allowed them to get to the heart of critical issues that would not have emerged in a traditional focus group. These include issues that were personal to a high performer that were causing them to consider resignation, dubious behavior by a specific senior leader that was driving down morale, and the story of a distribution company that hit a major snag with the deployment of their field logistics software but were oblivious to the problem because the field-based employees were not in the traditional feedback loop.
"Using Energage Connect allows people to think individually about how they are feeling. In focus groups, there can be one person that leads the conversation. People tend to follow their lead rather than expressing how they feel individually. Connect gives them an opportunity to express their thoughts without being influenced by others."  – Energage Connect user
Connect allows the company to get ahead of such issues. The tool also allows the pulse survey administrator to report back to the executive team or specific team leads and share results with the organization as a whole. In this fashion, the pulse survey is also a celebration of your culture.
Over time, we find that employees begin to trust the process more and more, coming out gradually from behind the shield of anonymity and providing increasingly candid and useful feedback. This is an opportunity for senior leaders to become more trusted and better connected at an individual level, as well as for employees to actively participate in shaping their work culture for the better.