Catalytic Coaching Course – Atlanta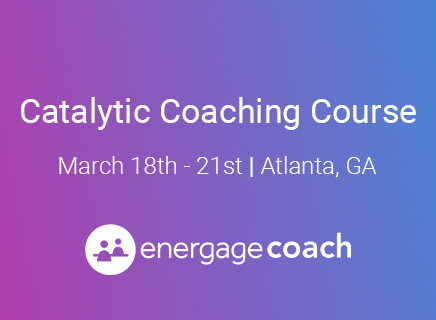 *Receive your Coach2 Certification along with 16.5 HRCI & 20.5 SHRM credits*
Better Conversations, Engaged Employees
Catalytic Coaching can help transform both individuals and their organizations by saving time, reducing stress and delivering in these key areas:
– Positive Behavioral Change
– Motivation to Work Hard
– Retention of Key Contributors
– Internal Promotions and Succession
– Prevention of and Protection Against Lawsuits
Designed for HR Leaders and Senior Executives exploring or already using alternatives to performance evaluations, this training will allow participants to:
– Discover how a performance management system can rapidly increase employee engagement
– Work real-life, challenging cases in class
– Identify common speed bumps to avoid during roll-out
– Exchange best practices with others utilizing the program
– Network with like-minded peers
– Get certified as a Coach2 in Catalytic Coaching
– Learn directly from the program architect, Gary Markle
WHEN:
March 18-21, 2018
Monday 1:30pm to Thursday 4:00pm
WHERE:
Join our team at The Georgia Tech Hotel & Conference Center in Atlanta. 3.5 days, 3 nights, including meals, wifi, parking, and sleeping rooms.
TUITION:
Ticket purchased before January 28th: $2,150
Ticket purchased between January 29th to February 18th: $2,450
Ticket purchased after February 19th to March 11th: $2,950
To purchase tickets after sale ends, please contact Holly Subers (holly.subers@energage.com).
CANCELLATION POLICY:
25% cancellation/reschedule fee (plus $22.50 for book) if cancelled within one month of program kick-off. 50% cancellation/reschedule fee (plus $22.50 for book) if cancelled within two weeks of program kick-off.
All funds are USD.