The Serious Business of Fun at Work
Have you ever walked into a business and immediately sensed whether or not it would be a good place to work? Have you ever said to yourself, "I'd love to work here" or "I'm not sure I would fit in"?
The culture and environment of your office, and its contribution to employee happiness can have a major impact on your bottom line. In human resources, one very popular metric is employee engagement. It measures employees' emotional and active commitment to the success of the company.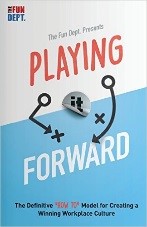 Engaged workers are enthusiastic about their jobs. They're dedicated to helping the company reach its goals. And disengaged workers? Not so much. They complain, make excuses, and drag people down. And, if left unchecked, a lack of engagement will drag your business down too, from increased turnover and decreased productivity to lost customers and lower margins.
As a leader, you'll never manage the emotional assets of every employee. But you can control how much you promote a positive culture in your workplace—one that encourages significantly higher levels of engagement through the time, talent, and the dollars you invest in it.
Fun at work builds solidarity, connection, and an outlet for workplace stress
Fun (at least workplace fun) is not about hopping on one foot while blindfolded, wearing embarrassing costumes, or forcing employees to be silly. Fun at work is building solidarity, connection, and an outlet for workplace stress. When designed and delivered at regular intervals with forethought and understanding about what your staff needs, fun at work will help to:
Defeat burnout and boredom.
Enhance creativity and productivity.
Create energy, enthusiasm, and excitement.
Improve employee retention and prevent costly turnover.
Attract top talent.
Boost profitability.
Think back to elementary school. What was your favorite part of the day? Remember recess?  It served an important purpose—and it wasn't merely to give teachers a break from classroom time. According to the American Academy of Pediatrics, "well-supervised recess offers cognitive, social, emotional, and physical benefits that many not be fully appreciated when a decision is made to diminish it."
Fun at work starts at the top
If leadership isn't leading the charge, employees will hesitate to engage, and that will undermine the initiative from the get-go. Leaders launch the fun; informing employees that it's not only OK to have fun, but that they are going to be right there with them. When it comes to fun—or any other major organizational initiative, leadership support is key to success and impact.
Embrace the mindset of fun
So where do you start and how do you get your team to embrace a new mindset of fun? The Fun Dept. teaches organizations how to design and develop custom programming that harmonizes with the personality and culture of your workplace to build that much-needed sense of connection.