How to Develop Workplace Culture through Fun at Work
So what challenges, roadblocks, and objections might you face when you are considering the development of employee culture through fun at work? Let's tackle the most common objections we've seen in our experience in program development. They may be your own concerns, or the concerns of other leaders in your organization – in any case, prepare for naysayers with our help. If you are petitioning for leaders' support, use the information here to make the business case for fun at work.
[bctt tweet="Fun at work is an important part of improving workplace culture and #EmployeeEngagement. @TheFunDept" username="WPDynamics"]
Myth #1: Creating fun is expensive and time consuming.
The typical model for fun is the company holiday party at a large banquet hall, or some fast-paced, one-and-done, day of teambuilding that replicates the popular Survivor series on television. With cost-effective, brief, and well-designed deliveries of fun, delivered to small groups over time, your company will develop a customized model that is seamless and stress-free in form and function. And, you'll find that short, regular engagement produces longer-term results.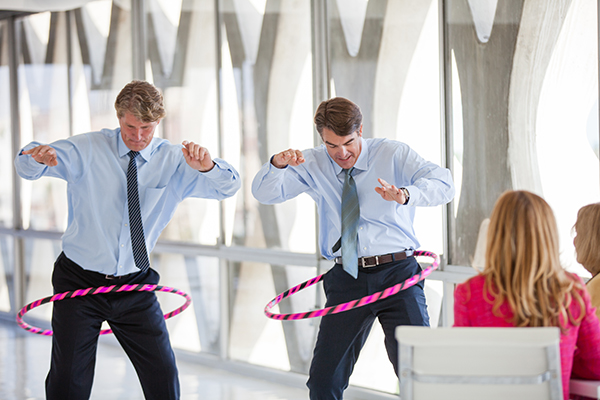 Myth #2: Fun is frivolous.
Well, this objection has an easy answer and it's all in the dollars and sense. Gallup estimates companies lose an average of $2,246 per disengaged employee per year. Can you do the quick math and determine what that might mean to your bottom line? Increasing employee engagement is anything but frivolous.
Myth #3: Employees don't want to make fools of themselves; they won't want to participate.
Yup, being self-conscious among co-workers can be a barrier. We've seen it in action. Most people are self-conscious to some degree. When leadership is aware of the existing personalities and culture, and planning thoughtfully to get everyone involved in an employee-focused event, you will prepare for those uncomfortable few who may work to be wallflowers. Through deliberate planning, and with experience, trust and optimism will win the day—and you'll master the art of engaging even the most shy among your colleagues.
Myth #4: I don't want to deal with the office politics that might crop up.
Office politics, hierarchy, and trust issues affect every workforce. You might wonder what would happen if you brought all of that unrest and buried feelings into an enclosed space for a "fun" event. We can assure you, after watching the fun in real life everything irons out once the right programs are in place. With years of fun under our belts, we have witnessed more unity than disconnection, and a surprising breakdown of barriers and dissolving of politics. Turns out that fun programs—when done right—actually serve to bond your staff together. Give them that chance, and you'll see it for yourself.
Myth #5: I am not sure I know how to create fun that my staff will enjoy.
We can relate. When The Fun Dept. launched, we studied, researched, and developed hundreds of sustainable and easily adopted engagements that had broad appeal. So where do you start and how do you get your team to embrace a new mindset of fun? Design and develop programming that harmonizes with the personality and culture of your workplace to build that much-needed sense of connection.
Myth #6: I don't feel comfortable promoting fun (and I don't feel like I'm the most fun person, either).
Relating to your staff, employees, or workforce isn't always a natural or innate talent, that's true. We are culturally developed in ways that are specific to our work environment, upbringing, or beliefs and values. Leadership in employee engagement begins with taking responsibility for the uptick in morale, productivity, and creativity. Just because the development of an engaging culture – or fun at work – does not feel natural does not mean it can't happen; it simply means you need a launch plan and design support for your program, and you may need a little hands-on help from the experts.
Myth #7: Getting expertise to help develop programs is expensive, right?
Okay. We have to spend some time on this objection. We hear this worry for two reasons. First, few operational budgets include a line item for employee engagement. So fun is already breaking the budget. (Luckily, there's an easy solution: Add a line item. And then watch other line items improve!) Second, most companies' leaders attempting to develop a fun culture with employee engagement throw a big wad of dough at the wall once and hope it "sticks". In fact, they usually spend more money than we would ever recommend. Remember the famous line from a song, an adage we often use in real time: "Money can't buy me love?" Well that's a truism.
Are You Walking the Talk?
You have the power to support it or to squash it. Your actions are very important. If you are just paying lip service to engagement and fun, without actions to match, the initiative will fall flat. Employees generally have a strong and accurate sense about whether their leadership cares or not. Show your employees that you care—that you're truly part of the team—by joining them in their new, fun adventures. That means participating in the fun activities and being authentic in your participation.
Source: Playing it Forward