Six Ways to Emerge Stronger Than Ever
The COVID-19 lockdown resulted in more than half of employed Americans working remotely, according to a recent Gallup poll. This is a significant increase over the pre-pandemic, when an estimated 18 percent of employees worked from home.
The world of work has obviously experienced a major pivot. And there's no doubt more pivots will come. So, what impact has the pandemic had on your culture and brand? And how can your organization emerge stronger? Here are our recommendations based on our 14 years of employee engagement and workplace culture research.
How you treated employees during the pandemic will have a lasting impact
Industry experts say that the way organizations treated their employees in the first five weeks of the 2020 pandemic will likely have an impact on their brand for the next five years. And this, in turn, will affect everything from productivity and turnover to customer retention and recruiting.
Moving forward, the frequent questions from job candidates will be, "What happened to your organization during the pandemic?" And, "How did you take care of your employees, and what did you do to support them?" No doubt, a people-first culture will continue to pay dividends for organizations that took this approach before – and during – the crisis.
Customers are buying more than your product or service
There are two ways to think about brand. There's your external brand, the one we show to clients, potential customers, prospective employees. And there's your internal brand that relies on the employee experience.
The tide has turned for consumers. When consumers seek out a product or service, they're not only interested in what you're selling, they're also interested in the ethos of your organization. They are seeking transparency and openness. They're buying your organization's mission, vision, and values too. So, how do you sell that? Focus on employees first.
Taking a people-first focus is good for your bottom line
"By putting the employee first, the customer effectively comes first by default, and in the end, the shareholder comes first by default as well." Richard Branson, Founder, Virgin Group
A lot happens when you take a people-first focus. Research has shown that when employee engagement improves, your bottom line improves too. Take the Top Workplaces Fund, for example. It's a virtual stock fund comprised of the publicly-traded companies that are recognized as Top Workplaces throughout the United Sates. Since its inception, the fund has consistently outperformed the Russell 2500 Index.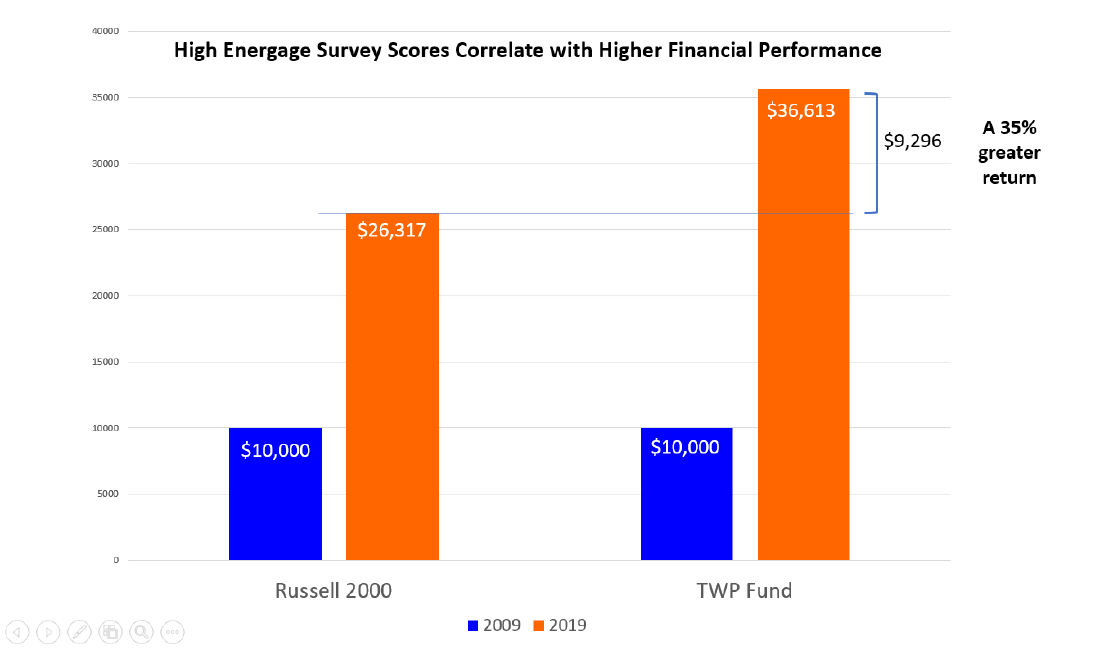 That's because people-centered Top Workplaces are more productive, attract the right talent, and have employees who want to stick around. This leads to better revenue, happier customers, and, in the case of public companies, improved market performance. Not to mention, Top Workplaces winners get the added benefit of valuable employer recognition.
The impact employee engagement has on performance
Organizational performance is driven by people. People are driven by emotions that are a direct result of their experiences. Your culture is the sum total of those emotions and experiences.
We've measured workplace culture and employee engagement for the past 14 years. We've surveyed more than 22 million employees at over 66,000 organizations. And one of the most interesting things we observed during the pandemic was an increase in survey scores.
Looking at both Top Workplaces and aspiring Top Workplaces, we compared employee engagement survey data from 1,700 organizations that completed the Energage Workplace Survey prior to March 15, 2020 with 700 organizations that completed the same survey since that date. From team members to managers and senior leaders, the Energage study revealed across-the-board increases in culture driver scores since COVID-19 shelter-in-place orders took effect. That means employee engagement has strengthened for Top Workplaces organizations as well as those that aspire to achieve the same status.
"The bottom line on this crisis is an important lesson in business: When the company takes care of its people, the people take care of the company." ~Josh Bersin
How your culture influences the employees (who influence your brand)
There is no such thing as a culture-less organization. Culture happens regardless. The question is, are you being intentional about creating and maintaining a culture that enables you to achieve your goals, or are you just allowing the culture to shape itself? Let's explore three aspects that influence your culture:
Collaboration
You can craft how your organization collaborates, so be deliberate about it. In the remote working world, consider the technologies that can facilitate this. Platforms such as Slack and Microsoft Teams make it easy to have conversations in real time, audio, and video.
Are the systems that your organization is currently using as effective during remote work? Do they foster interdepartmental cooperation? If you're aware of issues, consider creating cross-functional teams that could encourage better collaboration.
Competence
When people feel competent, appreciated, and connected, they are better able to iterate, innovate, and create. This is especially relevant now. Take stock of how competent your employees are feeling. Are they being trained, developed, coached? Make sure you continue ongoing conversations about their roles and responsibilities as well as training opportunities.
Have a conversation with employees whose role or responsibilities have needed to be tweaked or shifted during the pandemic. Seek them out and ask them what they've learned, if it's something that they enjoy, and if it's something they would like to continue. Your goal is to find out if they're enjoying the challenge and are feeling competent.
Appreciation
Appreciation consistently ranks as one of the top 15 Culture Drivers. Evaluate the recognition systems you have in place. Are they effective in the remote work environment? Share stories of the positive things employees are doing. This will reinforce the behavior that you want to continue to see.
Six ways to emerge stronger and future-proof your culture
1. Ensure a safe channel for employee feedback.
Giving employees the opportunity to offer feedback ensures they feel heard and offers proof their input matters. It also builds trust and confidence, and research shows this has a direct impact on engagement.
2. Build trust with your employees.
People are wired to perceive threats. When an employee starts at a new company, it can take up to two years to build trust. When there is a misstep, that trust can be shattered. But it is possible to recover. First, do what you can to remove the perception of threat and build a sense of inclusion. How do you do that? With sincerity, thought, planning, and consistency.
3. Get buy-in at the senior leadership level.
Your employees are your brand ambassadors. They present your organization's culture and brand to clients, prospects – and even job candidates. When it comes to high levels of employee engagement, Top Workplaces have an executive sponsor. That means someone at the senior leadership level understands how employee engagement impacts performance and they're really excited about it.
4. Build on your culture strengths.
For Tom Landry, one of the all-time great football coaches, appreciation was a habit. After every game, he'd show a highlight reel, but it wasn't filled with gaffes and blunders. Instead, Coach Landry used the opportunity to celebrate successful plays and recognize individual players.
"There are numerous, thousands of ways to do something wrong, but only a few ways to be able to do it well." ~ Coach Tom Landry
Appreciating employees helps them to feel competent and successful. And that motivates them to give more each and every day. Find ways to reinforce the good. If you can tie them to your organizations' values, even better. It provides the positive reinforcement of the behavior you want your employees to live.
5. Become an aspiring Top Workplace.
Top Workplaces, the leading employer recognition program, is powered solely by the employee feedback we capture with the Energage employee engagement survey. Aspiring to achieve this award offers proof that you prioritize a people-first culture. Plus, being able to say, "I work for a Top Workplace!" gives employees a great sense of pride and boosts morale.
6. Highlight your employer brand.
Remember, your customers are buying more than your products and services. They're buying your culture and brand. Employer Branding tools enable you to highlight, celebrate, and share where your organization excels, whether it's communication, values, appreciation, or one of the other 12 Culture Drivers.