Engaged employees deliver better patient satisfaction
Many studies point to a strong correlation between employee engagement and positive outcomes. And we know that in healthcare, staff who are passionate about their work create better patient experiences. So, the question is this: How do you create a culture that encourages engagement so workers are better able to deliver better patient experiences, better outcomes — and ultimately — higher profitability for your organization?
To understand the culture drivers that lead to higher employee engagement, we explored our database of 20 million employee survey responses, including the nations Top Workplaces and more than 24,000 from healthcare associates in the United States and correlated it to patient experience data. Here's what we discovered about the relationship between culture in healthcare organizations and patient experience.
What the data reveals about patient satisfaction and employee engagement
Several of the 15 culture drivers we identified as key factors of employee engagement are also closely correlated to patient experience scores. Here are the top three employee satisfaction survey questions, according to healthcare associates nationwide:
1. "This company operates by strong values."
Healthcare is a values-driven industry. We aren't selling televisions, building houses, or operating machinery. We are caring for lives. Healthcare employees who say their organization operates by strong values are likely to go above and beyond to deliver exceptional patient experiences. That's because they believe the organization cares as much about their patient as they do. They feel their organization lives up to its promises and is driven by a clear set of standards — with the patient at the center of it all.
2. "At this company, we do things efficiently and well."
When healthcare organizations do things efficiently and well, it enables all team members to feel capable of delivering their best care. They also feel empowered to "get the job done" as best possible. The entire operation runs more smoothly and people aren't frustrated. Plus, when employees feel things are done efficiently, patients are likely to feel the same way. That's why it's important to remove barriers to getting things done. Ensuring the staff is committed to a job well done helps all employees feel engaged — and that creates a better experience for the patient.
3. "This company enables me to work at my full potential."
Healthcare associates who feel empowered to work at their full potential are more likely to apply their best talents on the job. They also feel appreciated because the organization enables them to do their best work. Potential, according to our research, is a critical driver of patient experience scores.
In fact, organizations scoring below the national average on this survey statement were 130% more likely to score below the average on patient experience scores. Paying close attention to this should be a key focus for all managers and leaders who want to improve the patient experience.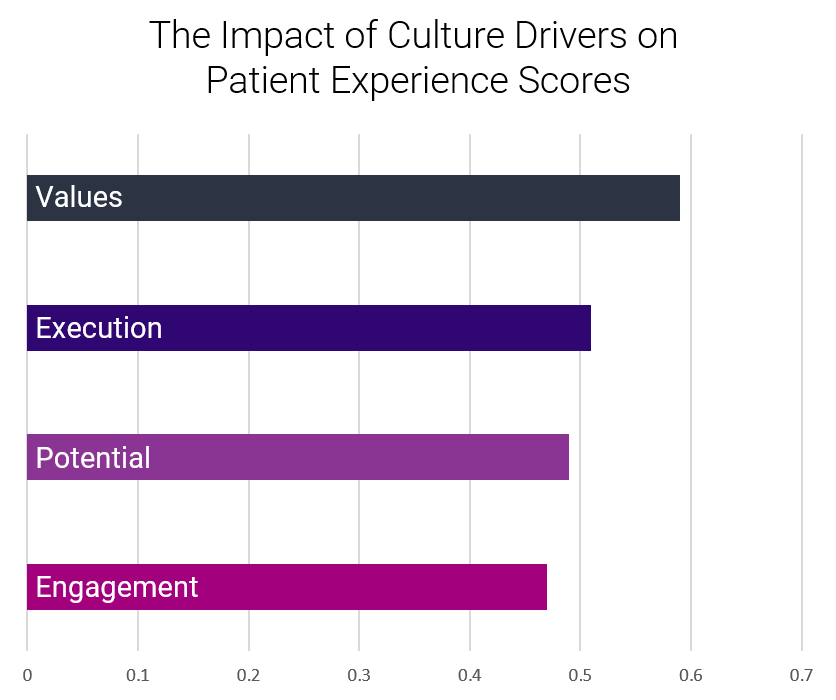 Taking action to increase employee engagement 
Patient experience scores are directly dependent on the engagement and passion of healthcare employees. Here are three things you can do to boost employee engagement and ultimately deliver a better patient experience:
1. Align your organization around your core values and mission. Be sure your leaders and managers are living your values and role-modeling the behaviors you state in your values.  
Make values part of the conversation by recognizing people who live the values.
Consider how you and your leadership represent your values every day.
Encourage employees to think about values when they are uncertain about decisions. 
Consider ways for employees to call out when values aren't being represented.
2. Make sure you're doing things efficiently and well. Your employees suffer and patients certainly notice when you are bogged down with long waiting times and poor quality.
Empower employees to share feedback on the processes they work with every day.
Create and communicate common rules for how to prioritize and hand off work.
Implement a safe channel for healthy conversations about ways to improve efficiency and quality.
3. Empower your employees to work to their fullest. You'll unleash untapped potential.
Support continuous learning and individual development plans.
Encourage managers to engage in one-on-one conversations around potential.
Show employees career paths that help them to find future opportunities and then work toward them.
Make an impact on employee engagement starting today.