Are your employees ready to return to the workplace?
Find out in 3 quick and easy steps
Two out of three employees aren't comfortable going back to the office
When is the right time to bring your employees back to the office – and what's the best way to go about it? These are the big questions on the minds of business leaders everywhere. There's pressure to move quickly, yet the actions you take will have a lasting impact.
The Return to the Workplace Transition Series is a set of short, targeted surveys that give you the real-time employee feedback you need to make critical decisions quickly and safely – while building the trust and confidence of your people, too.
From survey to insights in less than 48 hours
Step 1
Select your survey.
Choose from a wide range of pre-built packs or we can create one for you.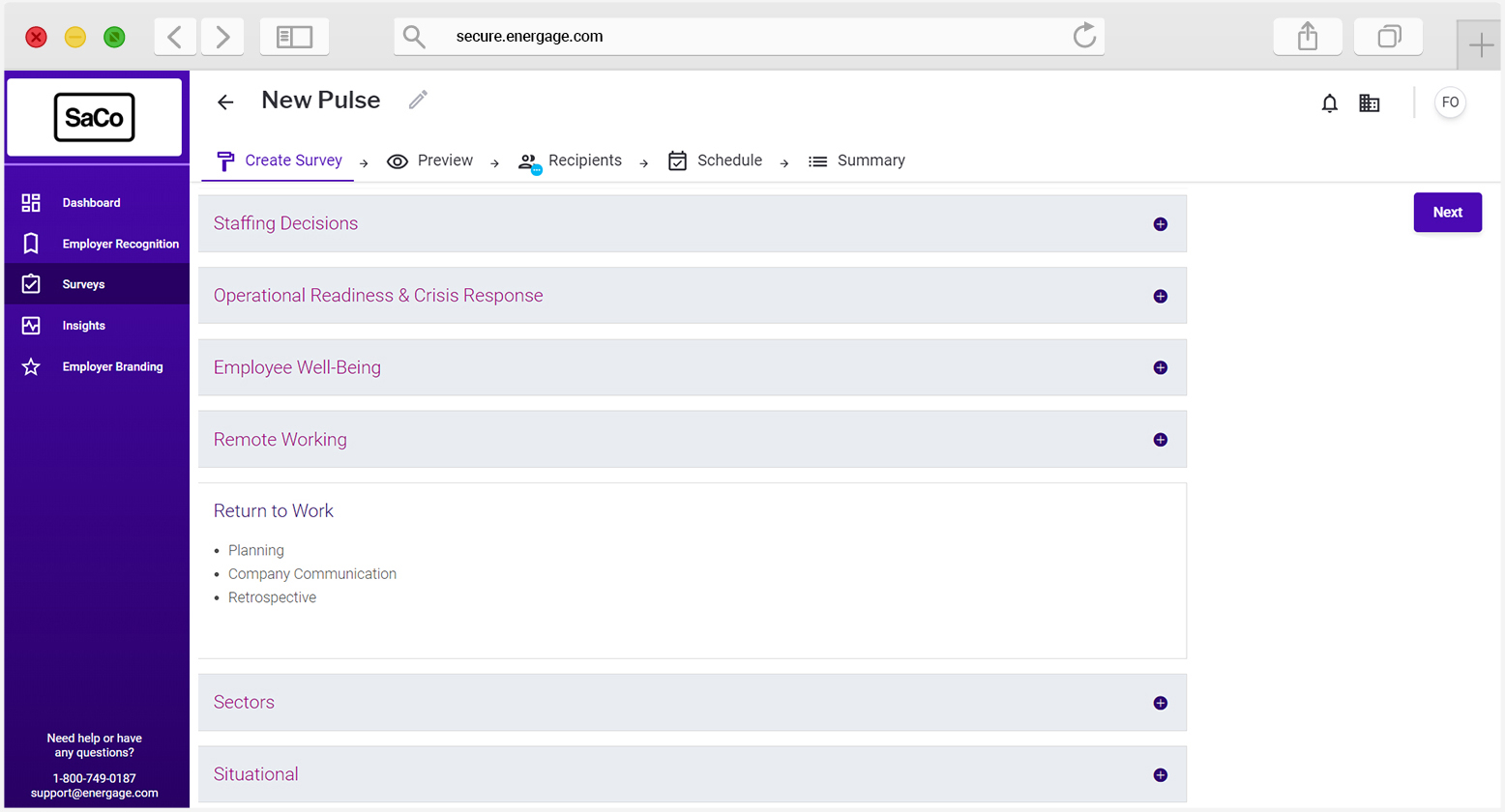 Step 2
Upload your employee list and launch the 5-minute survey.
Turn your attention to other priorities while Pulse captures anonymous responses.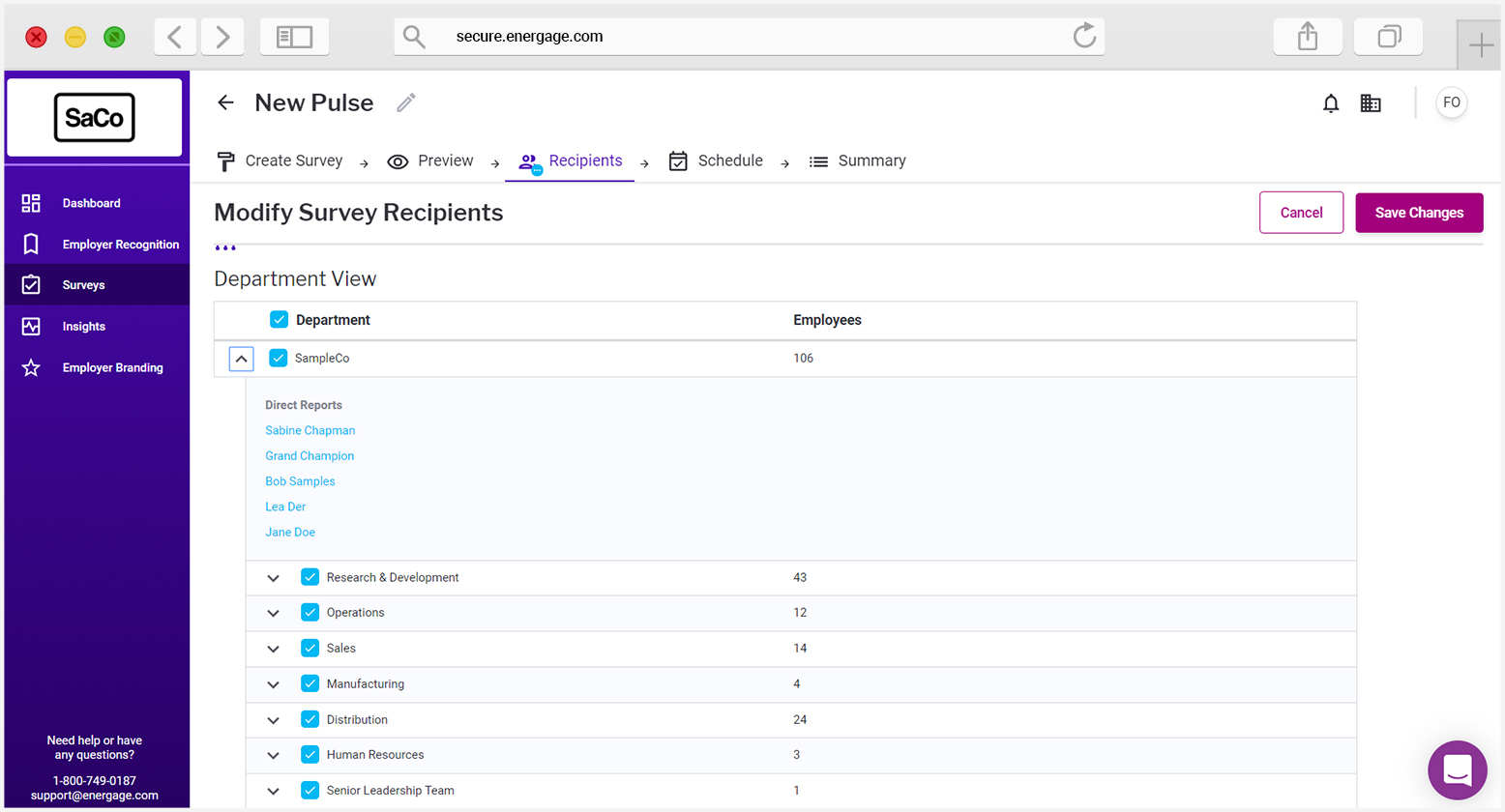 Step 3
Get answers to your most critical business issues within 48 hours.
Prescriptive tips help you take action based on employee feedback.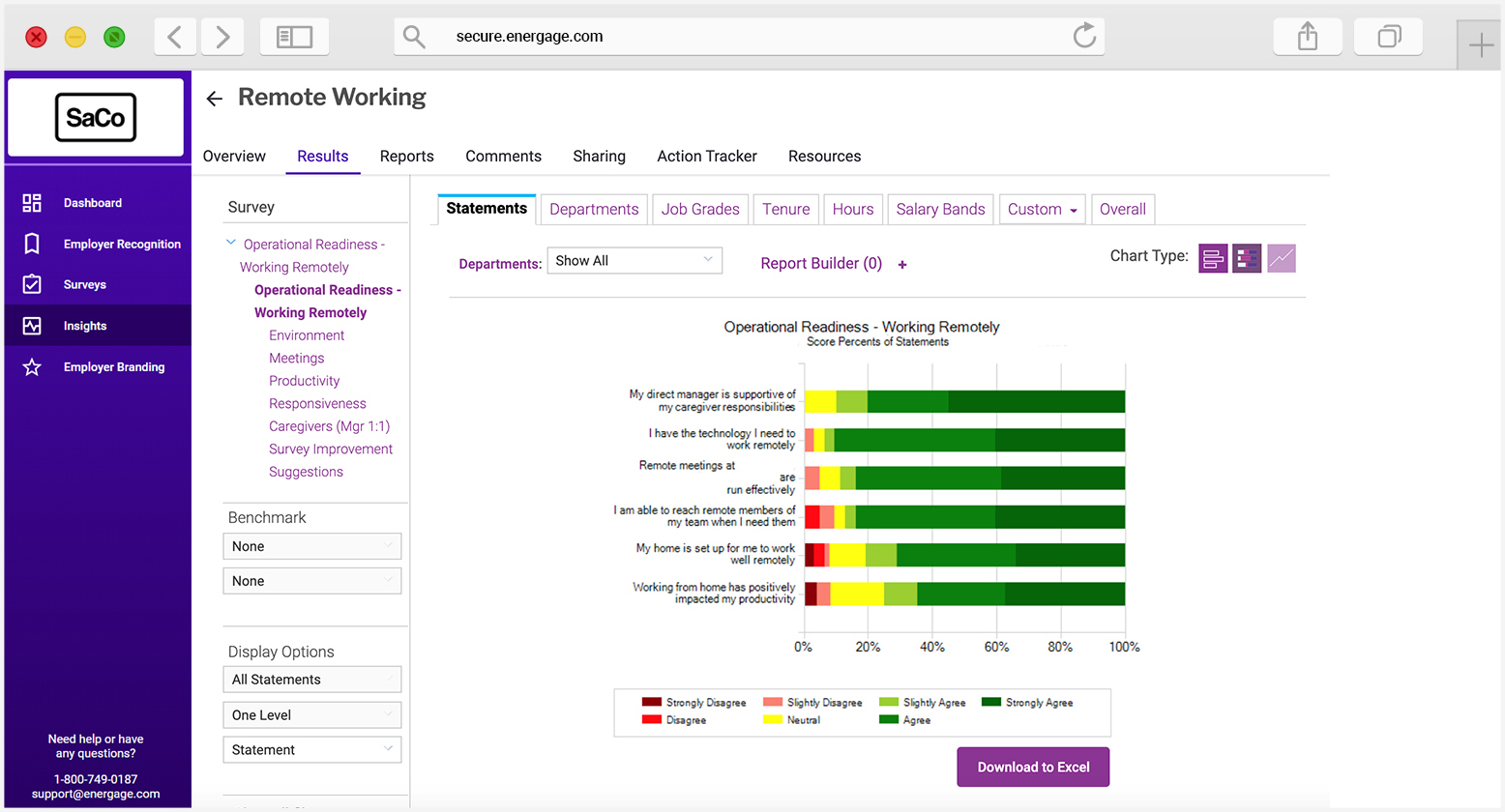 With the support of expert guidance if you want it
We're here to help. Schedule a 30-minute walkthrough of results with an Energage survey expert.
We'll work with you to map out next steps and create a simple action plan.
Short, targeted surveys are a win-win for
leadership and employees
Survey response rates are higher than ever before. Employees are voicing their appreciation for the outreach and leadership's desire for feedback.
"The fact this survey even happened gives me confidence that the firm actually cares about the challenges everyone is facing right now."
"Our leaders communicate consistently. They do surveys like this to keep their finger on the pulse of the company."
"We are asked for our opinions, like in this survey. To me, it is important to know that this company cares about the opinions of the people that help make the company what it is."
"I especially like that that our company has these surveys. Shows great character in our core values."
"Thank you for reaching out and getting our perspective. It speaks volumes to the kind of company we are and we aspire to be."
"It's nice to know leadership cares what we think and keeps us in the loop of making things better for everyone."
See how it works
Request a free, 15-minute demo
Research-based Pulse Packs for today's most pressing concerns
Pulse Packs address a wide range of topics, and we're adding more all of the time. If you need something that's not on the list, we'll help you create the perfect set for your needs.
Staffing Decisions
Furloughed Employee Connection
Employee Separation Phase 1
Employee Separation Phase 2
Post-Compensation Reduction
Post-Financial Posterity
Operational Readiness & Crisis Response
Business Transition
Company Communication
Resilience Through Crisis
Special Initiative Launch Readiness
Process Change
Crisis Retrospective
Employee Well-Being
Mental Health
Personal Financial Health
Maxed Out: Stress & Strain Bi-weekly
Remote Working
Essentials
Communication & Collaboration
Childcare Challenges
Remote Managing
Return to Work
Planning
Company Communication 
Retrospective
Sectors
K-12 Education: Staff Distance Learning
Higher Education: Staff Distance Learning
Higher Education: Student Distance Learning
Manufacturing: Crisis Response
Healthcare: Crisis Response
Situational
Sales Compensation Crisis-Driven Change
COVID-Positive Employee in Workplace
Post-Merger Integration
Crisis Product Launch Readiness
Data driven people decisions powered by real-time feedback.
Request a free, 15-minute demo