Top Workplaces Leaders are Willing Ask the Tough Questions
If you joined us at any one of the 38 Top Workplaces celebrations held around the country this year, you may have left with the impression that the program is not much more than a feel-good slap on the back for businesses with great workplace cultures.
But behind the award lies a simple truth: Top Workplaces stand out from the crowd because their leaders are willing to ask the tough questions. They have the guts to hold up a mirror to better understand what's really happening within their organizations and the smarts to ask their employees: How are we doing — and how can we improve?
Not all leaders have this same degree of courage
Many would rather not burden themselves with the answers. They hope the workplace culture issue will somehow fix itself. But asking these tough questions draws the line between leadership teams who accept an accidental culture and those who are committed to it in an intentional, strategic way. Top Workplaces leaders forge the workplace culture they need to deliver on their business strategies.
For those who do take a proactive approach, the potential upside is substantial.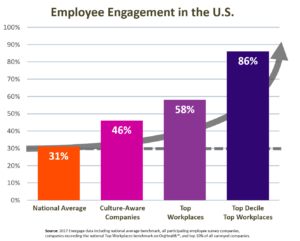 Across the general population of the U.S. workforce, only 31% of employees are engaged. This is what our research tells us and other firms claim as well. Top Workplaces, on the other hand, achieve an average employee engagement level of 58%. That's close to double the national average. Of the top 10% of all companies we've surveyed, engagement levels exceed 86%.
Culture-aware organizations see higher levels of engagement
But even aspiring Top Workplaces — organizations that throw their hat in the ring and do not reach the Top Workplaces standard — still exceed the U.S. average with employee engagement levels of around 46%.
Employees in organizations where the leaders are open to employee feedback score higher on key engagement factors: They're more likely to refer their workplace to friends and family, more committed to staying, and more likely to give their very best at work.
Top Workplaces get better business results, too
And we're talking about significant differences in performance, such as:
• Stronger execution (+23 percentage points higher than the average)
• Clearer direction (+25 percentage points)
• Better teamwork and cooperation (+19 percentage points)
• Greater individual commitment to the organization (+20 percentage points)
In average organizations, fewer than half (49%) of employees report being well-informed and only 57% report that their senior leaders understand what is really happening. Among Top Workplaces, those numbers jump to 70%. All of these play into employee engagement. It also builds trust and commitment.
It's worth noting that Top Workplace distinguish themselves not by greater benefits packages, higher pay, or more flexible work arrangements. Here we see a gap of nine, ten, and 12 percentage points respectively in positive responses between the population at large and Top Workplaces.
In today's business world, workplace culture is the only sustainable competitive advantage. So it's time to hold up the mirror and ask: Do you lead your culture or answer to it?