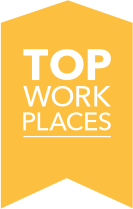 Making the world (an even) better
place to work together.
Launched on August 3, 2020
Top Workplaces expands its employer recognition program.
We're building on the collective work you, our media partners, have contributed over the past 14 years to make Top Workplaces the nation's most prestigious, credible regional employer recognition program. We've expanded the brand family to include a collection of new awards, including:
National Top Workplaces Award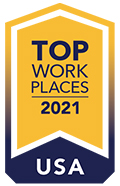 Regional Top Workplaces Awards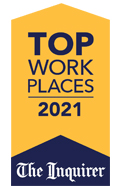 Industry Top Workplaces Awards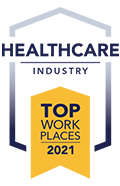 Culture Excellence Top Workplaces Awards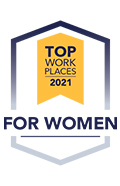 Aspiring Top Workplaces Award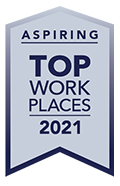 As our partner, here's what is in it for you
Expanding the program ensures Top Workplaces remains relevant to the ways in which the world of work has changed since early 2020. It also brings you exciting new opportunities to:
Create additional opportunities for advertising revenue
Attract larger organizations that have a national footprint
Drive more participation to your regional programs
Strengthen Top Workplaces as the nation's leading recognition brand
Feature quarterly awards based on special topics and industries
Publish fresh and timely editorial content
Grow your program by promoting Top Workplaces USA.
Get the most out of the Top Workplaces USA program. Companies that participate in the Top Workplaces USA program automatically will be enrolled in any regional programs where they meet or exceed the minimum employee requirements.
Large companies are looking for an awards program that can represent them on the national stage and highlight them regionally where they hire. By promoting Top Workplaces USA to your readers and customers, you will be able to attract larger companies that will be included in your regional program.
And we make promotion easy…
We can provide plug-and-play ad and email creative that promotes the Top Workplaces USA program, while tying in your regional program and your brand.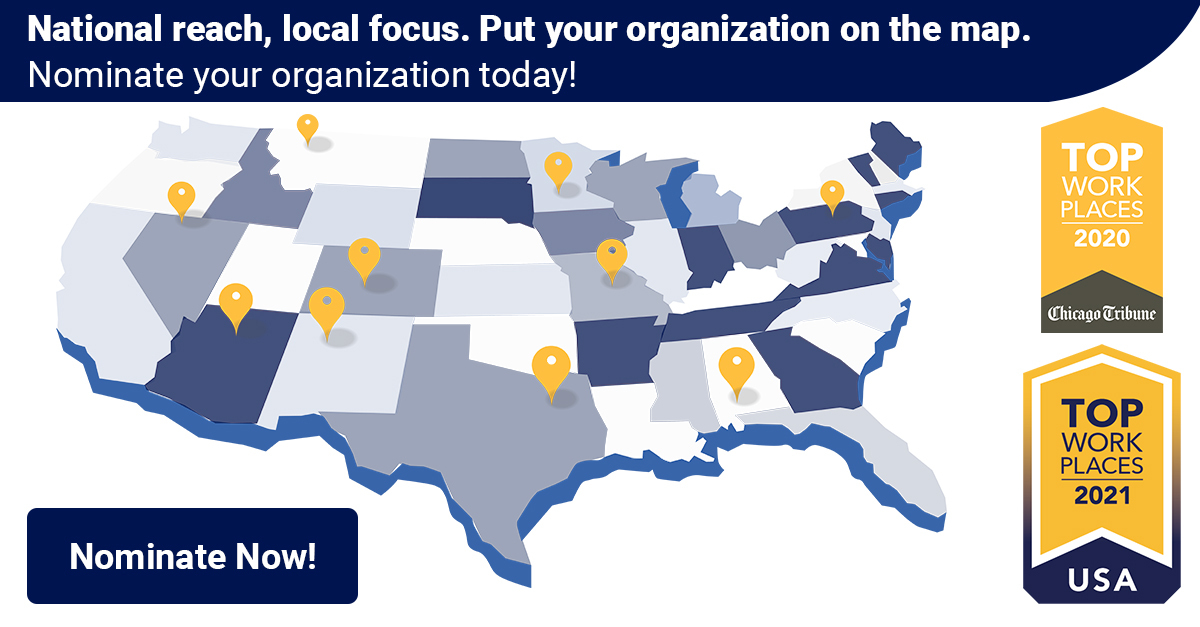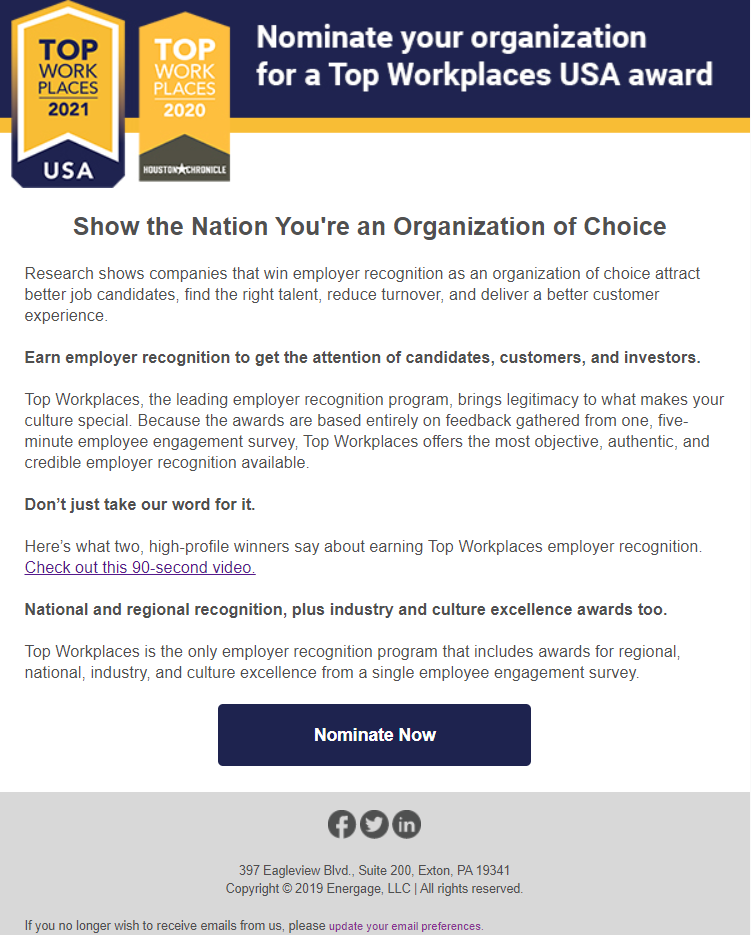 Why the nation needs Top Workplaces now more than ever.
Being on the frontlines of headline news, we don't need to tell you that the world of work has changed – and changed dramatically since March 2020. Top Workplaces is a chance to celebrate the good. To recognize companies that prioritize a people-centered culture and tell the story of leaders who give their employees a voice.
Companies experiencing record growth need to accelerate their hiring.
Companies that earn recognition as an organization of choice attract better job candidates and the right talent for their culture.
With more companies shifting to a remote workforce, geographic boundaries are fading.
The competition has become fierce as organizations scout for talent locally and also across the nation.
Third-party employer recognition reduces turnover rates.
Regardless of company size or the number of industry job openings, employees at Top Workplaces are engaged and want to stay put.
Employees are becoming more selective. Customers too.
Job candidates want to work for Top Workplaces. Customers and investors want to do business with these award-winning organizations too.
Organizations know that recognition builds employee pride and morale.
Being able to say, "I work for a Top Workplace!" gives employees a great sense of pride and a much-needed morale boost.
More opportunities to celebrate Top Workplaces, without a heavy added lift.
As you know, Top Workplaces is based solely on the employee feedback captured with the Energage employee engagement survey. That same single survey also powers the data needed for all of the brand awards, from regional and national recognition to industry and culture excellence recognition.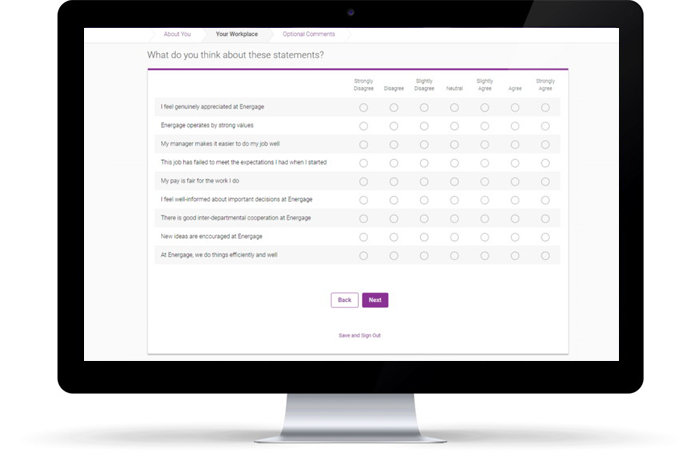 In the words of Top Workplaces
"The word is pride. Everybody's just so proud of having the Top Workplaces designation! Being able to announce that we are a Top Workplaces winner was a lot of fun. The employees were so surprised!"
Samantha Green, HR Business Partner, TEAM Schostak
"The thing about being a Top Workplace is not that you're the best once. The questions I ask are: 'How can we sustain this? Can we keep that focus? How can we sharpen it?'"
Zac Jacobson, Senior Director of Business Excellence and Customer Insights, eBay
"We love being able to use the Top Workplaces awards we have earned to market the firm to new clients and employees."
Patty Bedell, Firm Administrator, Smith & Howard
"Due to our involvement in the Top Workplaces program, we have attracted outstanding candidates and filled vacancies quicker than ever because the pool of applicants has learned that we are one of the area's top places to work."
Vince Payne, Director of Public Relations, Hamilton Local School District
"In my two most recent recruitments, both of the candidates we selected mentioned the recognition. They saw the logo that's on our brochures, on our website, and in our lobby. It really is having an effect for us; and it's exciting to see that."
Kerrie Bryan, HR Manager, East Valley Water District
Together, let's celebrate the good.
We look forward to partnering with you on this exciting new journey.
Questions? Please reach out to Media Partnerships Director, Bob Helbig,
at bob.helbig@energage.com or 484-419-9006.