More ways to help you succeed
We continuously enhance our solution to help you unlock potential and inspire performance in your organization.
A simple system for creating a strong, engaging workplace culture

Inform your senior team in minutes and dive deep into what matters most

Equip your managers with information and tools that improve results

Use expert support from our workplace consultants when needed
Quickly understand results
See and share your most important survey insights within minutes of receiving your results.
Our AI Guide helps you spot the strengths to celebrate and focus areas in need of attention.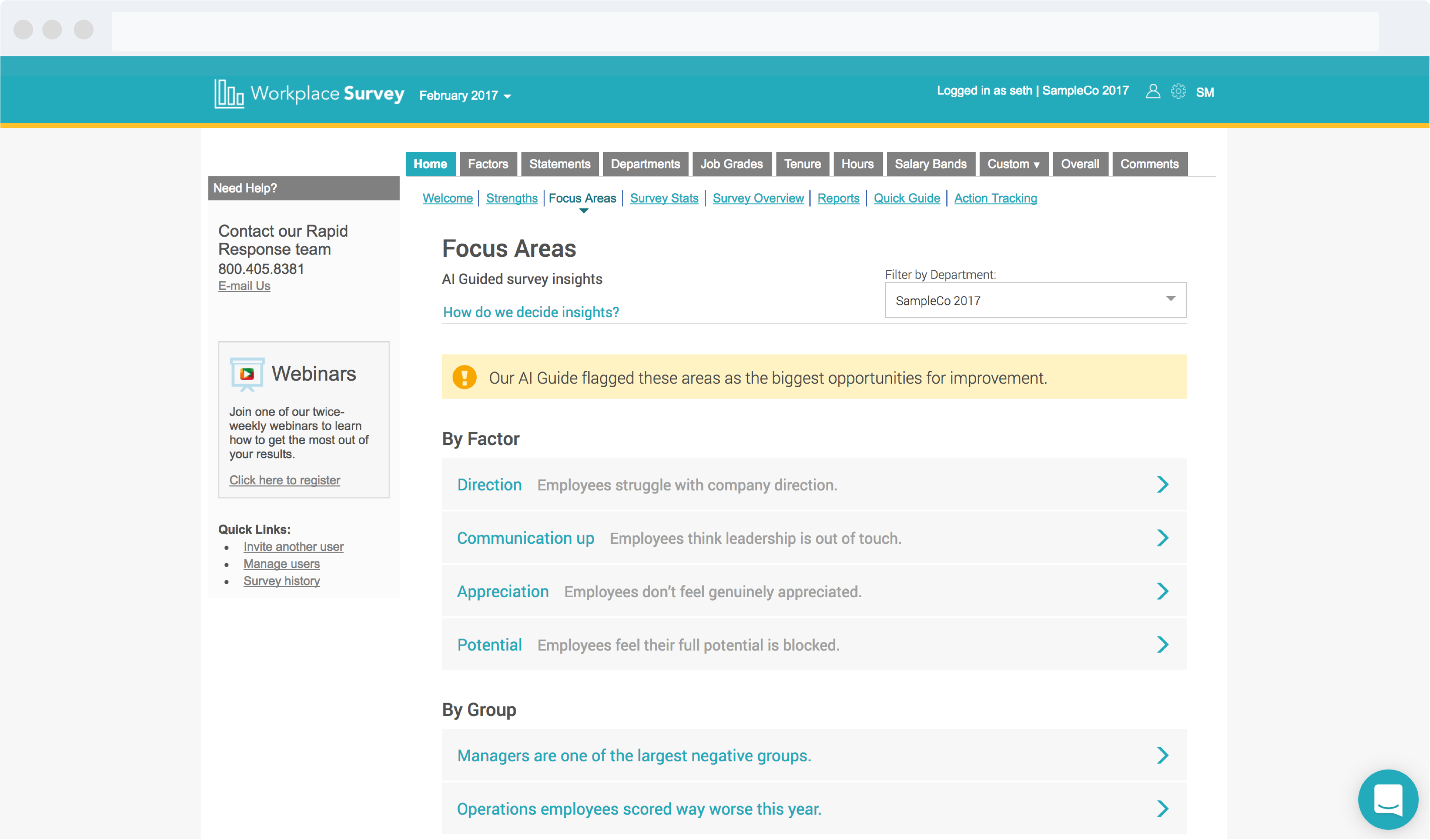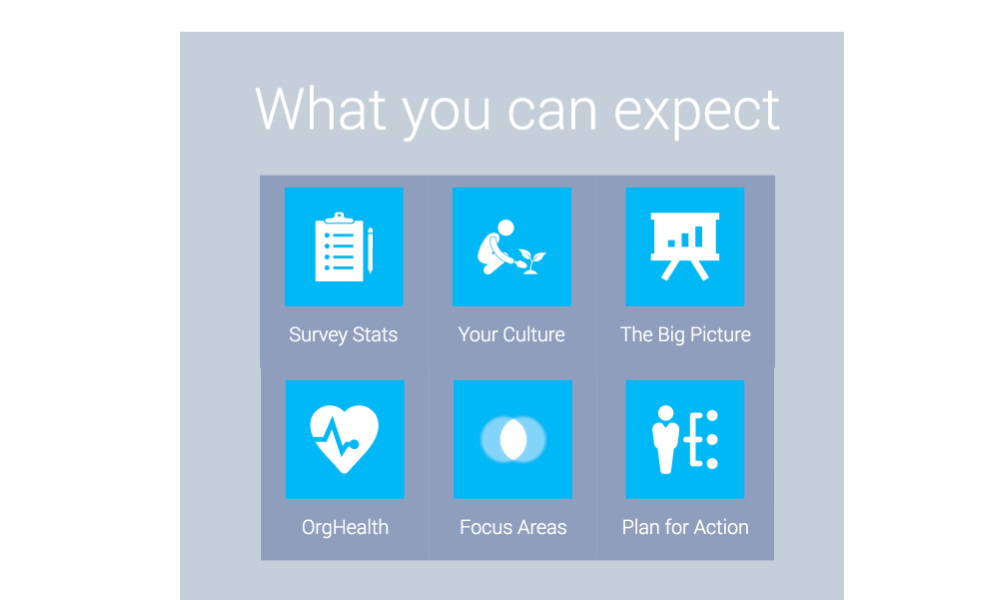 Get leaders the information they need
Use enhanced reports to share the most relevant survey results with leaders.
If you need help, our Executive Briefing option will provide the guidance and support needed to make sure the survey has a positive impact.
Learn more from employee comments
Take advantage of our patent-pending comment analysis technology that benchmarks topics and sentiment to cut through the noise and see what really stands out about your organization.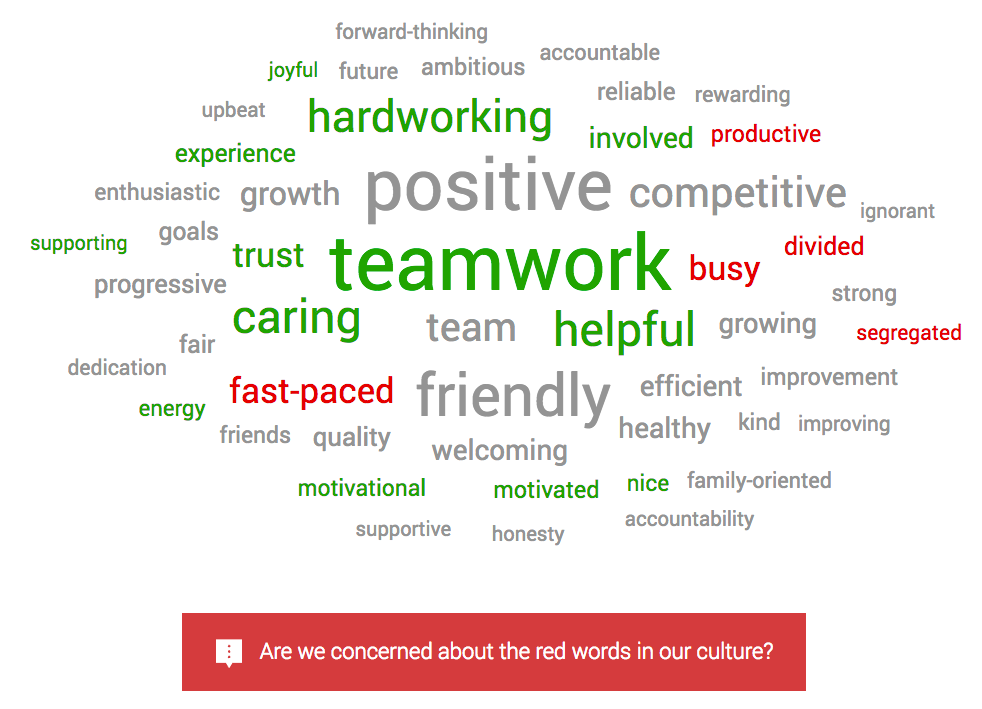 Help your workforce act on survey results
Smart manager sharing
Share department-level reports and provide access to online results to managers who are ready to improve their team's performance.
Department-level insights
Give managers clear and concise insights with department reports that surface strengths and focus areas most likely to impact business outcomes.
Action planning and tracking
Custom action planning templates for each department, along with an organization-wide action tracking tool, help you empower employees to make a positive contribution.
Engage your employees with Pulse communication
Continue the conversation with a year-round engagement platform that helps employees feel heard and appreciated, while keeping leaders informed and alerted to potential issues.

Give a voice
Real-time anonymous answers to targeted questions help employees feel heard.

Target efforts
Dig deeper into themes from your annual survey so you can take appropriate action.

Guide your leaders
Enable leaders to understand the challenges and obstacles facing their teams.

Identify blindspots
Expose problems quickly and address them before it is too late.
Transform performance with Catalytic Coaching
Performance evaluations don't work.
Employees and managers everywhere feel it every day – old performance management hurts. It forces managers to take employee's futures out of their hands. If you want better employees and they want better careers, start coaching today.
There is a better way.
Catalytic Coaching evolves outdated performance management processes into something that actually inspires employees.
Three simple steps
Employees take control of their futures and present their goals to their managers.

Managers track employee growth and share company perspective on their progress.

Employees develop career plans with the help of engaged and informed managers.
You have what it takes to improve employee engagement. We're at your side when you need us.