Create a culture of open communication
Communication thrives at Top Workplaces
At the end of the day, all organizational problems can be boiled down to one thing: communication. In every communication, something gets lost along the way. In your organization, that little thing could be what would have made your strategy sing.
Employees at Top Workplaces tell us they feel good about internal communication at work. They're well informed, recognized, and heard, and they work well with other teams. What makes this possible?
Employees who feel well informed about important decisions
* Organizations that earned a Top Workplaces award. Source: Energage
Employees who feel senior managers understand what is really happening at the company
* Organizations that earned a Top Workplaces award. Source: Energage
Employees who feel there is good interdepartmental cooperation at the company
* Organizations that earned a Top Workplaces award. Source: Energage
In this section, you'll learn:
What open communication looks like
With messaging apps, social media, and triple-digit inboxes, organizations seem to be in a constant flow of communication. But it's mostly noise. No one understands each other any better, and there's still a failure to get to the heart of what really matters.
This isn't because there's not enough communication. It's because that communication is not clear enough or candid enough.
Top Workplaces create a culture of open communication where:
Employees feel safe to share honest opinions

Employees feel their opinions are valued and heard

Employees feel appreciated, recognized, and well informed

Managers know what's going on in the organization

Managers communicate efficiently and often

Managers are personally invested in employees
For employees to be completely candid and know that their feedback is valued, they need to feel completely safe. This starts with your leadership.
Are they actively seeking feedback?
Are policies in place to ensure that employees can share confidentially, or without fear of punishment?
When your organization establishes open communication as a company value and models it from the top-down, managers will open up to it at the local team level. They'll seek regular feedback from their team members and provide transparent, encouraging communication in return. This all supports the candid coaching relationship we talked about in Turn Good Managers Into Great Coaches.
"Our employees are a priority in everything we do. It's not about the bottom line; it's not about making money for the company. Those things happen naturally when you have a highly engaged workforce and when you make a concentrated effort to keep them engaged. In all of our departments, leadership is tangible. They're available and they're accessible. That's intentional — but it's also because our leaders understand the importance of open communication and developing a sincere and genuine connection with their teams." — Michael Goodman, Human Resources Manager, American Integrity Insurance Group
Appreciation & celebrating success
When many think of open communication, they jump to difficult performance reviews and challenging employee concerns.
To feel fully engaged in the organization, employees need to know their work is appreciated and important. It's more than just a pat on the back from a supervisor. They want to hear from peers, managers, and leaders as well.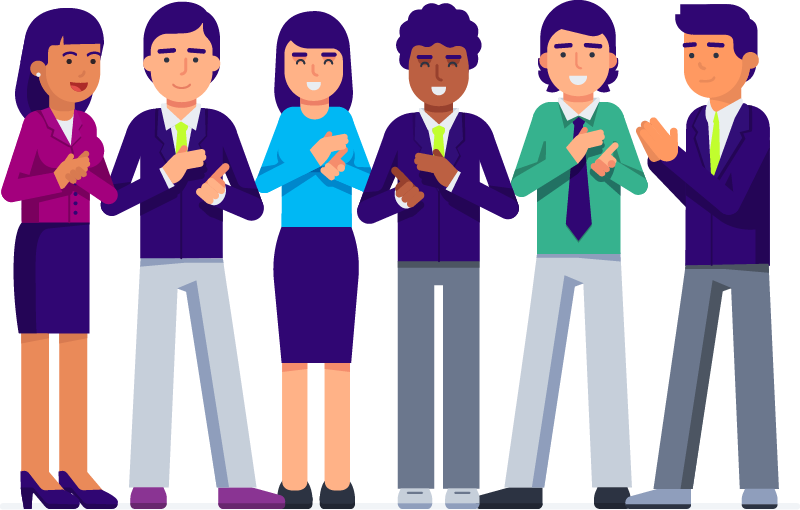 Sure, appreciation lets your employees know when they've done a good job. It's also what makes them enjoy their work and feel motivated to perform at their best. And they know it when they feel it.
Celebrating success is another crucial — and often overlooked — aspect of communication. Individual recognition is important, but leadership celebrating a team's hard work can actually double the impact of their achievements.
To get appreciation right, here are some simple suggestions:
Celebrate completed projects, significant milestones, and innovative ideas.
Avoid celebrating things that only benefit a few while others struggle.
Celebrate each success at the highest level it applies.
Give specific credit to the individual or team involved.
If feedback inspired the action, be sure to make that loud and clear.
Here are seven insights on appreciation from leaders at Top Workplaces.
Traditional methods just aren't enough
Once organizations run an employee survey, the first instinct is to find a way to understand the feedback better. Many organizations rely on meetings, open-door policies, and open calls for feedback, but these tactics just don't work.
Meetings don't encourage honest or objective responses because:
People don't always feel safe to share
Employee issues can be difficult to articulate on the spot
Dominant employees can influence the entire group
The facilitator may not be impartial
Open calls for feedback don't work well because:
Leaders can't control the conversation
Employees can't share anonymously
Employees have little reason to respond
Employees aren't sure their feedback is truly welcome
How one Top Workplace tapped into a culture of connection
Fast-growing companies often struggle to hold on to the culture of connection that helped them take off. And when the workforce becomes dispersed through expansion, the challenges are even greater. That was the case for one Pennsylvania-based Top Workplace. But that company found their solution.
MRO Corp. relies on continuous feedback to improve the connectivity needed to strengthen employee engagement, minimize turnover, and fuel continued growth.
Learning what they don't know — before it was too late
MRO's annual employee survey captures insights on what specific issues are arising as a result of rapid growth. But companies like MRO need something year-round to keep up with the pace of business and maintain the connection among workers, managers, and the senior team.
For this, MRO turned to a technology-based tool to improve connectivity. The company's ultimate goal is to know what employees are thinking before they become disengaged, leave, or behave in a way that will hurt the customer experience.
"The level of feedback I get and the window into the soul of our organization is difficult to gather any other way." — Steve Hynes, CEO, MRO
Cultivating a culture of gratitude
Continuous feedback also fosters appreciation. MRO recently added a "Culture Wall" to celebrate the best its culture has to offer. Now people have an easy way to thank their employees and talk about success stories.
"One of the things we love is the ability to put all that right up on the Culture Wall screen and share it throughout the company. People walk by and see other employees thanking co-workers, managers, trainers, and other leaders. People talk about it." — Shawn Powlick, VP of HR, MRO
See what else the leaders at MRO have to say about tapping into a culture communication.
It's time to take action
OK, now that you've got these best practices in your toolbelt, it's time to take action.