Quickly gather data on the most important topics
Spend less time creating surveys and more time making an impact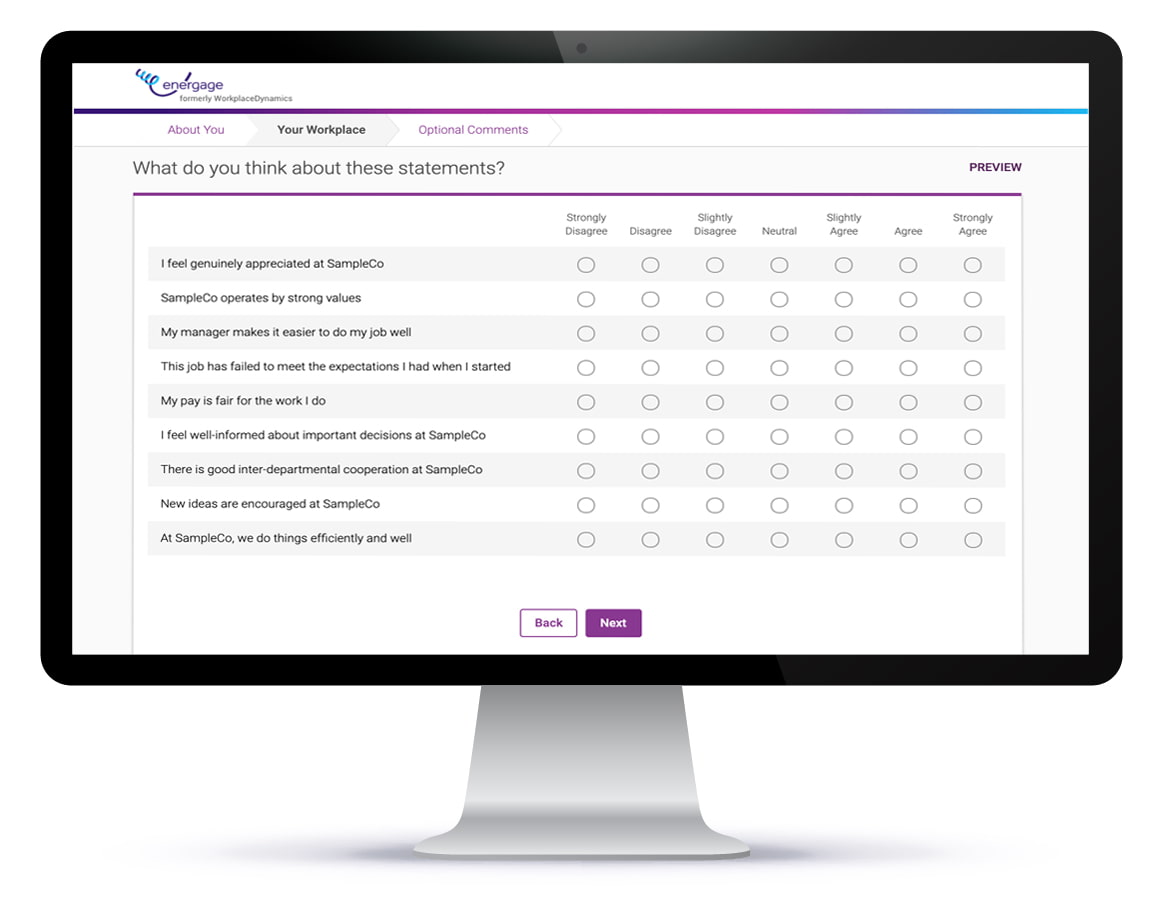 Know that your actions are making an impact on your culture
Continue the momentum from your Workplace Survey by probing into the strengths and focus areas identified with your Energage Insights subscription.
Survey with confidence to gather data that's actionable
Research-backed, rigorously tested survey statements yield meaningful employee feedback data
Keep culture efforts on track with continuous employee feedback
Check-in regularly with employees and keep engagement high by focusing on areas where resources are available and actions can have an impact
"Energage made this process really easy for the first time employer! Everyone that we have worked with along the way has been very responsive, transparent, and supportive. The customer support we have received has been very helpful with uploading data assistance and general questions." Healthcare Organization (NPS)
Increase engagement, reduce turnover, attract the right talent
Combine Energage Pulse with Energage Insights for a seamless approach to culture improvement
Benefit from seamless integration with Energage solutions that deliver a culture baseline, giving you confidence that your pulse efforts will be on-target
Track progress and see trends with our unmatched analysis and benchmarking capabilities on pulse questions
Leverage information from Pulse, Insights, and Employee Survey to further your Employer Branding initiatives to increase engagement, reduce turnover, and attract the right talent.
Give your employees a voice in a matter of minutes

"The deeper analysis of the data gave us a better overall understanding of where the issues were. That allowed us to engage where we needed to make changes in a more focused way."

"Energage is the one system that consistently gives me reports that are digestible, that are asking the right questions. Because some of these surveys, quite honestly, don't ask the right questions." "Our wins are a direct reflection of our team and the great work they do every day. And frankly, it's about how accountable they hold all of us for creating a great experience for their peers, for candidates, for alumni, and for our customers."