Recruit and retain
the right talent
Measure, shape, and showcase a
workplace culture that delivers results


60K
organizations surveyed


3,000+ intentional cultures powered by Energage












The Energage Platform
Collect, understand, and amplify the voice of your employees.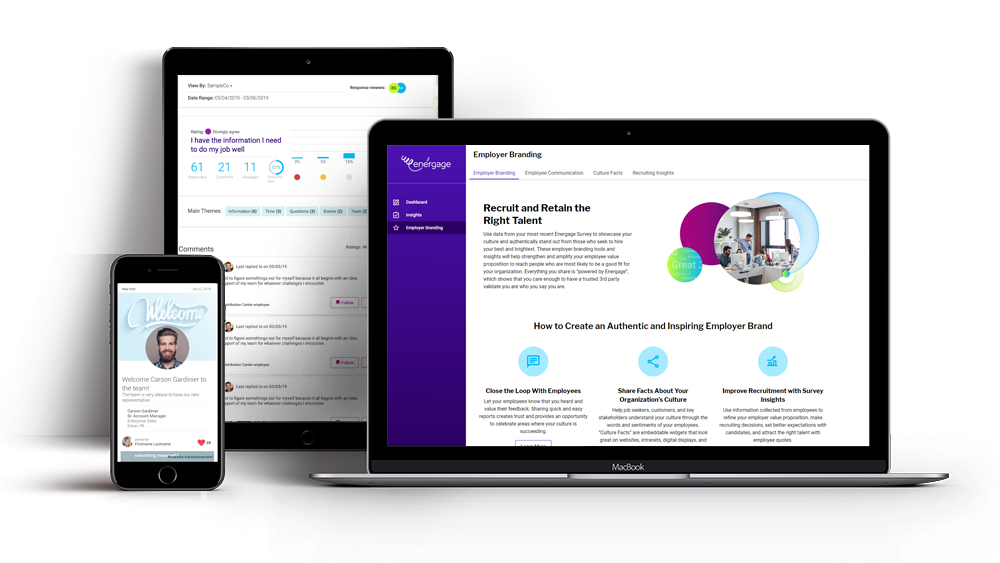 Workplace Survey
Gain recognition and increase brand awareness with the industry's most credible employee survey.
Insights
Take the guesswork out of employee survey data so you can move the needle on culture.
Pulse
Create custom surveys, quickly with confidence, to establish continuous employee communication.
Employer Branding
Uncover your hiring differentiators. Recruit and retain the right talent.
Don't leave your culture to chance.
An intentional culture is your competitive advantage


Best-in-class confidentiality, privacy, and security
You and your employees value confidentiality and we do too. We follow industry-leading security and privacy standards, including ISO 27001, NIST, and GDPR to protect your data.
Intentional Success
With higher employee engagement and intentional cultures, Energage customers are reducing turnover costs, increasing productivity, and improving teamwork.

"I love the single point of contact! Running multiple workplace awards, it's hard to stay on track of what each one needs. I love that we have a dedicated Energage rep who keeps me updated and on track for completing everything. They're honestly the best!"

"Your team is very responsive and easy to work with. It helps a great deal in how the steps are worked out for completion from start to finish. The report is also nice and gives insight to our hotel where we can make improvements."

"The survey itself elicits the kind of feedback from our employees that is helpful in shaping the way we engage and work with our employees. Our Account Manager was very helpful, coaching and guiding us through the whole process."

"I love the single point of contact! Running multiple workplace awards, it's hard to stay on track of what each one needs. I love that we have a dedicated Energage rep who keeps me updated and on track for completing everything. They're honestly the best!"

"Your team is very responsive and easy to work with. It helps a great deal in how the steps are worked out for completion from start to finish. The report is also nice and gives insight to our hotel where we can make improvements."

"The survey itself elicits the kind of feedback from our employees that is helpful in shaping the way we engage and work with our employees. Our Account Manager was very helpful, coaching and guiding us through the whole process."