Measure your culture and give employees a voice
The employee engagement survey trusted by the nation's Top Workplaces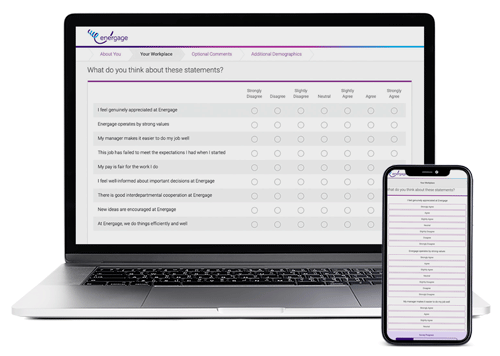 Research-backed, continuously tested
Built on carefully curated and continuously optimized statements, organizations rely on it to accurately measure the workplace experience and the culture themes that drive it.
Employee comments go beyond quantitative data to provide valuable context and insights to help organizations better understand and improve workplace culture. 
One survey, year-round employer recognition
The Workplace Survey qualifies your organization to earn recognition as an employer of choice in 60 regions across the U.S. as well as industry and culture excellence awards.
Why we measure what we measure: The Energage Method
Recruit and retain the right talent with culture

Top Workplaces leaders choose Energage
"We look forward to leveraging Pulse even more going forward to keep the lines of communication open throughout the year and ensure our efforts are focused on track, and impactful."
"We gather feedback by asking our employees what's most important to them, and act on those items. We're focused on the entire employee experience, not just salaries."
"This year, employees ranked the "We operate by strong values" statement lower than usual. That helped us see an opportunity for improvement and create a survey question about our internal values, which we hadn't discussed before. Now, we're developing our list of values to use internally and for branding, which will be a big game-changer for our culture."
"Survey setup is simple, especially with moving people around and working with specific demographics or initiatives. Energage is so much better than other employee engagement survey providers. We've tried three others, and the Workplace Survey is the easiest to use."
Quickly capture employee feedback on topics that matter to your organization
Customize the Workplace Survey
Add custom statements to the Workplace Survey to collect additional insights for data-driven decision making.  
Monitor strengths and focus areas
Dig deeper into the culture themes that drive the workplace experience with research-backed, pre-built survey templates.  
Evaluate improvement impact
Collect additional feedback at key intervals to track progress, drive meaningful change, and create a culture of continuous improvement.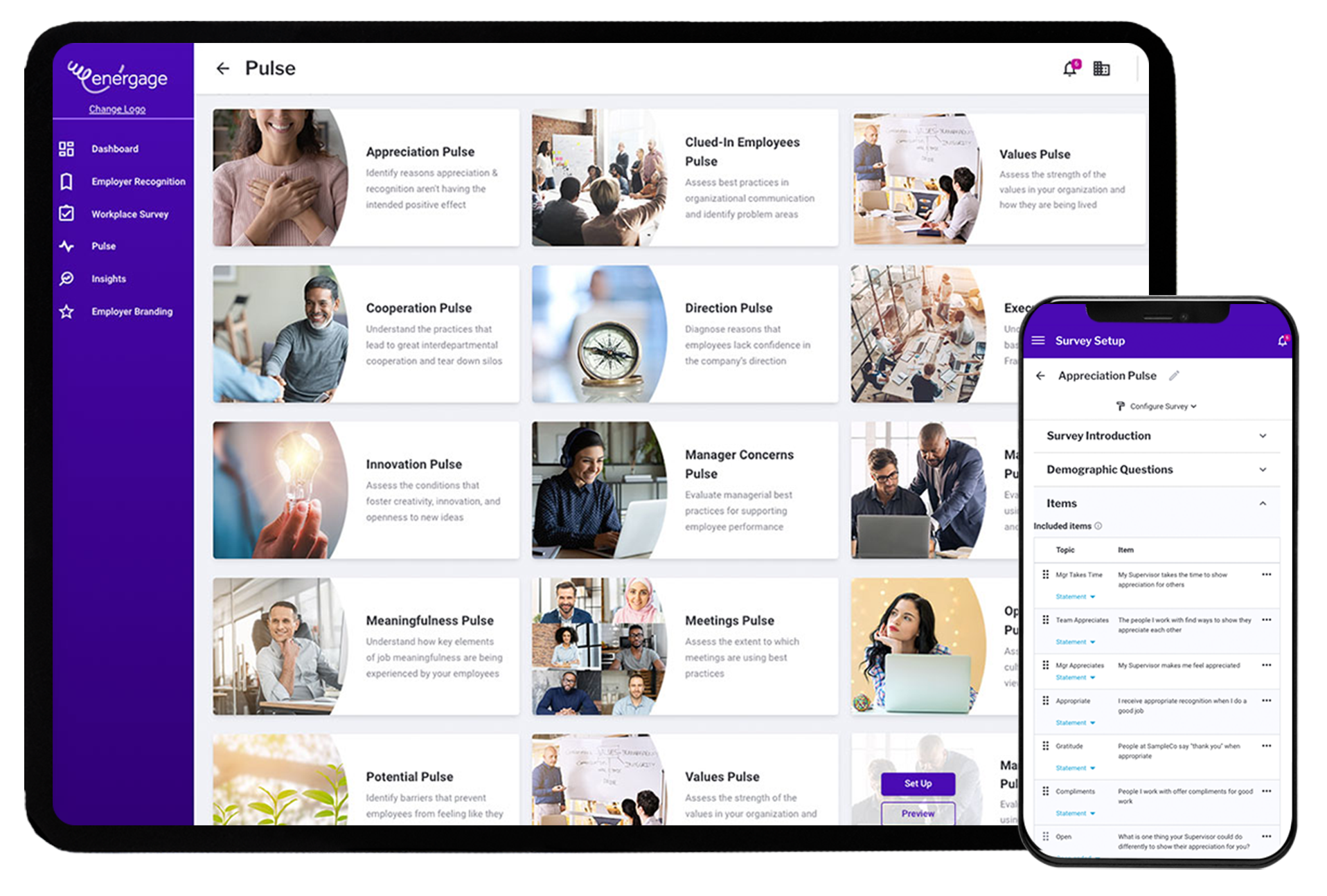 Measure what drives your culture and give employees a voice